Grasshopper remaking The Silver Case sequel Ward 25
CRIMES?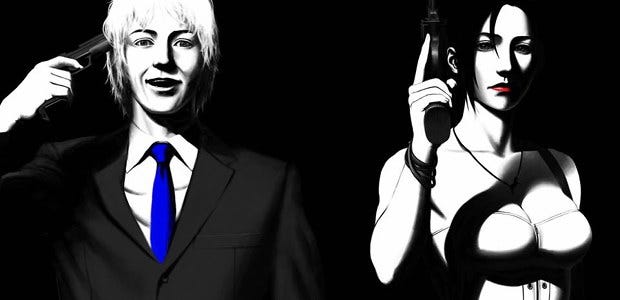 After revamping their very first game, 1999's visual novel The Silver Case [official site], last year, Grasshopper Manufacture have now announced a remake of its sequel. Released on Japanese pocket telephones in 2005 as The Silver Case: Ward 25, the episodic adventure followed cops investigating more violent and strange crimes. When and where and how the remake be released are hazy for now but we do know its new name, The 25th Ward: The Silver Case. Grasshopper also announced plans to add extra chapters to The Silver Case in a free update next week.
First up, here's the cryptic teaser trailer for The 25th Ward: The Silver Case. Sure, these look like crimes:
Grasshopper announced on Saturday that it "is officially going into production" but that's about all. Given that it was made for prehistoric pockphones, this is more of a remake. Going from wonky autotranslation of this Famitsu interview with Suda51, yup, it's a serious updating.
Before then, they'll expand The Silver Case with two chapters which they say "tie the main story and its upcoming sequel together." They explain that "'White Out' will be a new chapter added to 'Transmitter' within the game, whereas 'Yami' will be added to 'Placebo'." Both debuted in the PlayStation 4 version of The Silver Case.
Look for those two in a free update due next Tuesday, May 30th. Grasshopper say that update will also make "some adjustments to the game regarding some movies/images".
Grasshopper and Suda51 aren't well-known on PC, as their only games here are shoot 'em up Sine Mora and a tardy port of Killer Is Dead, but they're also behind games with really striking moods like No More Heroes and Killer7. And some clangers, like Lollipop Chainsaw. I've meant to check out The Silver Case, as I knew nothing about it, but I kept getting sidetracked. I guess accidentally waiting will pay off nicely with a more-complete game.