Warframe devs show off The Amazing Eternals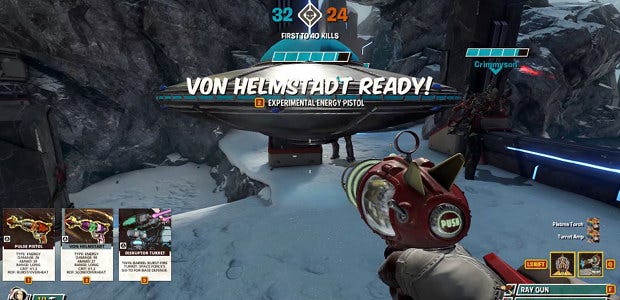 The makers of free-to-play hit Warframe have unveiled their next game, The Amazing Eternals [official site]. Announced in May under the name Keystone, The Amazing Eternals is a first-person 'hero' shooter with a splash of deck-building thrown in for cards giving power-ups and abilities. Yup, it's a bit like Overwatch meets Paladins, or Titanfall, or Battlefront, or... you know, it's smooshing together several concepts in the air tonight. Oh lord. And I've been waiting for this moment for all my life, oh lord. Can you feel it coming in the air tonight? Oh lord. Oh lord.
Ah, sorry. I think I was taken by something else in the air.
The Amazing Eternals! It's a team-based, class-based shooter (or 'hero shooter', we're supposed to say now when classes have personal names and don't wear similar uniforms) where, as you play, you'll also play cards. Drawing from a deck you've built from collected cards, these offer things like power-ups, different weapon types, and traps. It'll let players customise their style a little, and help them better shoot other players. Observe:
I do like fun B movie designs of the classes/characters/heroes/murderers.
Closed beta signups are live on the game's site. The Amazing Eternals will be free-to-play when it eventually launches in full, though Digital Extremes also plan to run a 'Founders Program' selling beta access and bits and bobs.