Serious Spandex: The Amazing Spider-Man 2 Trailer
Or 'Why Alice Likes Batman & Robin'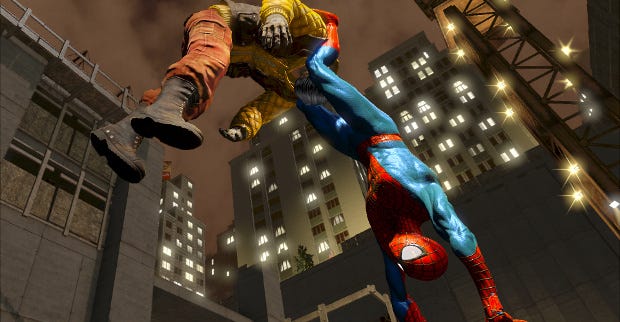 Batman & Robin is, I will insist until my dying days, one of the best-executed superhero movies. "What killed the dinosaurs?" Arnold Schwarzenegger asks as Mr. Freeze. "The ice age!" he cries as he starts blasting away with an ice laser. It wanted to be an absurd take on dim memories of Adam West-era Batman silliness and by Jove, the neon eyefuck certainly succeeded. Modern spandex flicks, no, they're trying too hard to be mature, edgy, and grown-up. The balance they try to strike between the fantastic and the human rarely works.
Come see what I mean in a new trailer for the tie-in Amazing Spider-Man 2 game, then I'm sure you'll agree with me that Batman & Robin is brilliant and we should all thank Joel Schumacher.
See? The 'intellectual' and 'artsy' use of classical music, sexual tension it can't follow through on, the anguish felt by a youngster remembering a chap on a hoverboard, no no no, it just doesn't work. Swinging around New York City certainly does look fun, though.
The Amazing-Spider Man 2 is due to crawl out on May 5.