The Animated Agony Of Max Payne 3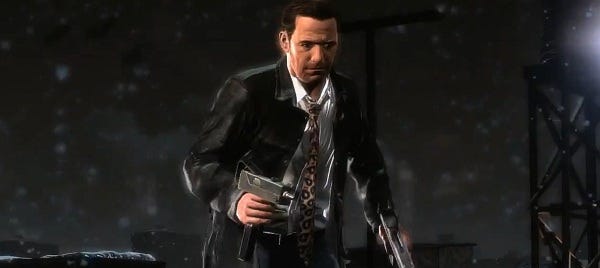 Good morning! I became sick and (didn't) almost perish but now I'm back and, my, what tumultuous events I missed in my absence. When I saw the news that Max Payne 3 had been delayed I fell backwards out of my chair in slow motion, pumping round after round of screaming lead through my monitor in anguish and fury while simultaneously having and not having a beard. In the distinctly Woo-less land of drizzle and pies, that action looks a lot more like a gray-faced man going 'tsk' and running his hand down his face. Delay or not, the media barrage continues with a new video that highlights animation and targeting. The last one seemed to cover a bit of that as well but here's more.
Voiceover man's description of proceedings as "immersive and cinematic" is exactly what I needed to hear. I'm dog-tired of either being immersed or cinematised and it's about time a game boldly provided both experiences simultaneously.
Ignore the sarcasm of a man still suffering from a slight imbalance of the humours for a moment though and hear this: I think it looks rather good. Despite my occasional lofty air of being above plain old man-shooting, me and Max used to kick about together. When I saw his new beard and a picture of him squatting behind a dumpster, I was worried he'd be skulking behind bookcases and kitchen units, covering himself in disgraceful modernity, but that doesn't seem to be the case. He's still a maniac.
Proof?
Proof.