The Banner Saga Reveals First Combat Shot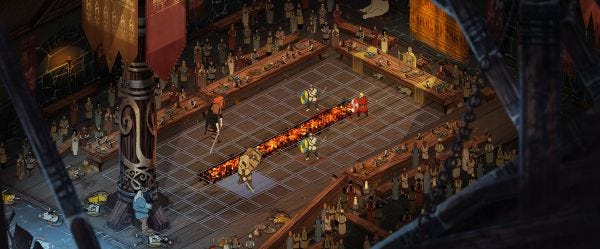 I'm not sure I should be encouraging this recent habit of indies releasing a single screenshot of their in-development games. When major publishers do that we roll our eyes and shout things like, "THEY'RE ADVERTS FOR YOUR GAMES, YOU IDIOTS - JUST RELEASE DOZENS OF THEM." Of course, Brian Fargo, and now Stoic are both showing the very first in-game image of a project they recently Kickstarted, likely putting them out before they themselves are ready - there's a sense of obligation to share things much sooner when you're funded by a few thousand strangers who want to play the game. And in this first picture of The Banner Saga in action (if you don't count this one), we can literally see it in action.
The image is from the game's tutorial, hence the teeny tiny battlefield, but gives an idea of the classic turn-based combat grid. The game's peculiar release will have a combat-only version being released as free-to-play, with a fully fledged RPG version coming some time later, for actual monies.
Artist Arnie Jorgensen explains the complexities of the "parallaxing" in a blog post that gives lots of details about the motivations behind the look, and the process by which he creates it. For instance:
"Since we control which layers are actually parallaxing (moving against each other) we can bake in lighting and shadows and basically whatever else is possible in Photoshop. Our engine doesn't add lighting to a scene, we have to paint it all by hand...waahhhh....wa-wait what? That's awesome! We can make our game look exactly how we want, there are no restrictions on the mood of The Banner Saga. We'll soon be applying tech that automatically breaks up and re-compiles large, full screen images like this to account for technical limitations on low-end computers and tablets."
You can keep track of images of the game in this thread.