The Best Things In Death (Rally) Are Free This Weekend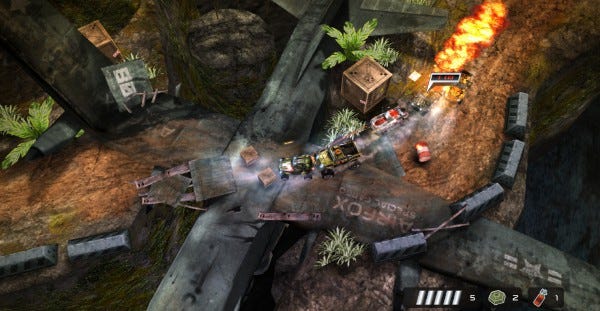 I have to say, I appreciate games that let us know what they're all about upfront. These days, the industry revels in adding subtitles to subtitles, but there's something to be said for simplicity, grace, and handsome elegance. That in mind, DEATH RALLY. It's a rally in which everyone dies. Constantly. Beautiful. It is, of course, a remake of Remedy's top-down classic with a new paint job and a few tweaks under the hood, which probably explains why it's not called, say, Race Carr's Armenian Fastdrive. Also, it's free this weekend. Huzzah!
All you need to do is go queue up a download on Steam, and you're good to. You've got until Sunday afternoon to kill as many cars as you can. Are you up to the challenge? Do you have the solid steel nerves needed to fire a gun and make something explode in a videogame?
If you end up digging it, there's also a 50 percent off sale running until Monday. And while I never played the original (blasphemous, I know), this version's quite gratifying. Bunch together, blow everyone apart, rinse, repeat. It even looks pretty nice - especially given that it was originally a mobile game.
Here's a trailer to give you an idea of what you're in for. You know, if the name DEATH RALLY didn't already accomplish that.