The Burning Ambush: Total War - Rome 2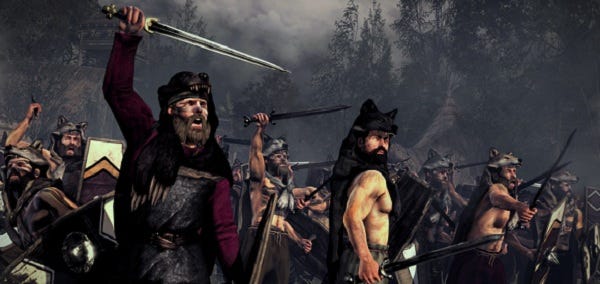 If you dig deep in any random farmer's field or carpark in Britain, you'll eventually find a Total War: Rome 2 trailer. They're impressive too - shiny, dramatic and packed to the brim with tiny men of war. While I'm convinced that, at times, the game will be as attractive and grand as the videos suggest, I'm also aware that a great deal of the footage contains heavily edited historical battles rather than the kind of backwater skirmishes I usually find myself panning across from a distant vantage point that is actually tactically useful. The latest video shows the battle of the Teutoburg Forest, in which Germanic tribes ambushed Romans and total warred them to death.
Ambushes will be enhanced by the new true line-of-sight system, which presumably works a bit like the system in Company of Heroes 2, calculating line of sight from individual units and taking all terrain features into account. It'll let people hide behind trees and rocks. That sort of thing.