Procedural Cult Infiltration: The Church In The Darkness
Tell me more!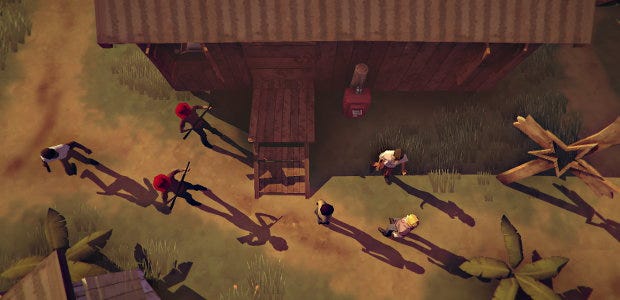 Newly-announced top-down stealth game The Church in the Darkness [official site] will see a former cop infiltrating a suicide cult's Jonestown-y compound - by stealth, by persuasion, by force - to rescue his nephew from the influence of charismatic leaders played by Ellen McLain and John Patrick Lowrie (Portal's GLaDOS and TF2's Sniper).
Or maybe it won't. Maybe they're not a suicide cult. Maybe they're fine and happy, and you're a monster. The Church in the Darkness is procedurally generated, see, and each run will change people's allegiances and beliefs as well as obvious things like the camp layout. Sounds interesting, dunnit?
The official word explains:
"The Church in the Darkness combines unique narrative with tight top-down action-infiltration gameplay in an open-ended environment. As Vic, an ex-law enforcement officer, you travel to South America to get into Freedom Town and check on your nephew, Alex. Play how you want - you can avoid detection completely, take on the guards using non-lethal methods, or kill anyone who gets in your way. But you'll have to live with the consequences of those choices."

"Every playthrough offers unique gameplay scenarios and story elements, with different character personalities and a shifting narrative told through investigation and action. How dangerous are the Walkers? Who are your allies and enemies? How far will you go to uncover the truth and save these people?"
Oh, I'm certainly up for that. And I'm definitely up for McLain and Lowrie gabbing over the camp's speakers, though... they're great voice actors, but as a pair I do think of them as the goofy married couple they are at conventions. They're helping on the soundtrack too.
The Church in the Darkness is the work of Richard Rouse III, designer and writer of The Suffering, and his Paranoid Productions. It's due on Windows and Mac in early 2017. For now, have a 'teaser' trailer: