Scale The Alps In The Climb's New VR Trailer
A show of hands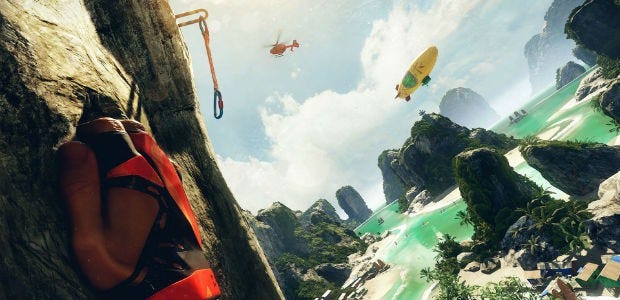 Over the last year or so, you might've spotted Crytek's lovely Back to Dinosaur Island VR demos. The Climb [official site] is the Crysis devs' latest project - a virtual reality climbing simulator that charges players with scaling treacherous cliff faces in idyllic locales scattered across the world. The latest trailer visits the Alps.
Exclusive to the Oculus Rift - although without a release date and price for now - The Climb relies on either the device's motion controllers or an Xbox gamepad to shuttle players up and down each mountainside. In first-person view, similar to the aforementioned dino demos, only the player's hands are visible. Look, see:
Given how spectacular the sun-bleached vistas and knife-edged drops look there, I'm not quite sure how I feel about the floating hands. If virtual reality is about sensory deprivation and total immersion, I find it hard to imagine myself buying into this wholeheartedly or believing that's actually me up there tackling the Alps or the likes.
The most credible VR games I've sampled so far have been the ones that have you in a natural seated position - EVE Valkyrie, for example - however I've also enjoyed walking simulators, such as Dream, whereby movement is dictated by the gamepad. The Climb strikes me as a game that will force you to adapt quickly, and it looks great, but at this stage I think I'd prefer to see my arms in doing so. I might be wrong and I hope I am. Personally, I'm not too fussed about seeing my legs, but that's another story entirely.
Again, no release date for now, but here's Crytek on the basics:
"The Climb is the first free solo rock climbing game, and it gives you a sensation of really climbing that could only be achieved in VR. But as much as we want you to explore and enjoy the view, at its heart, The Climb is a racing game. You're scored on a few things, including your climbing 'flow,' but the most important metric is your time and how quickly you can ascend each of our stages. You'll be competing against the rock face, against yourself, against your friends, and ultimately against players around the world as you attempt to get the quickest time possible."