The Curious Expedition launches free Arctic expansion
Ace ice antics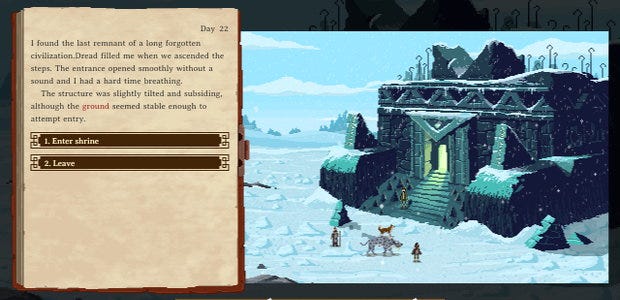 Ace adventure 'em up The Curious Expedition [official site] has added the Arctic in a big free update, full of new places to explore, new mysteries to uncover, new treasures to find, and more awful ways to die. Developers Maschinen-Mensch released the Arctic Expanse update on Friday with a bucket of tweaks too, which is grand considering The Curious Expedition was already our favourite roguelike of 2016.
"You'll finally be able to explore the north pole and all the dangers it brings," Maschinen-Mensch say. "We're also adding brand-new new events, enemies, items, disasters, characters, explorers, perks and more for all the expedition, so even if you hate the cold, you'll still find plenty to like."
Those new bits look to range from riding polar bears and standard murderous snowmadness to Lovecraftian lost civilisations and... heck, huge events I wish I hadn't accidentally read about. This might be the wrong pole for At the Mountains of Madness shenanigans but given that H.P. Lovecraft himself is a playable character (with the risk of spreading racism, no less), everywhere can be Lovecrafty.
Maschinen-Mensch haven't yet shared a changelog of everything the update has changed but they do say:
"We have fine-tuned the balancing, added many UI and Interface improvements, added new treasures and godly curses and items and perks, sound effects, events, ailments, quests ... it's too much to list."
Smashing stuff. Expect a changelog soon-ish.