Spec Ops: The Line devs announce sci-fi PvPvE shooter The Cycle
No, it doesn't sound like battle royale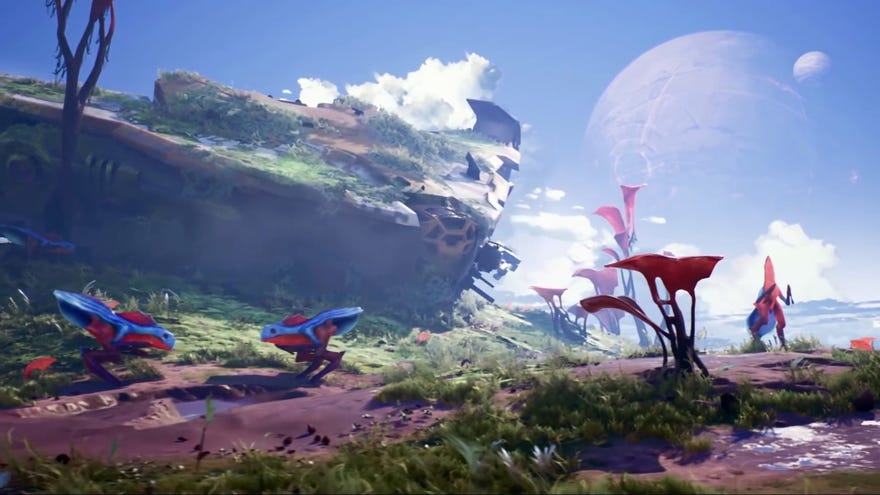 20 mercenaries will land on a pretty planet to complete quests, tussle with alien wildlife, and maybe murder each other a bit across 20-minute rounds in The Cycle, a new multiplayer FPS coming from Spec Ops: The Line and Dreadnought studio Yager. "OH IS THAT BATTLE ROYALE?" you started typing before even finishing reading the preceding sentence, you little scamp, and nnno it doesn't sound like it? Influenced by the new hotness, probably, but we're starting to move beyond straight Plunkbuts and more into games running with little threads of the genre - see Crytek's Hunt: Showdown too. The Cycle is due later this year so, for now, come watch this pretty announcement trailer.
I do like this pretty planet and its colourful wildlife. Good stuff. But what are we doing there? Yager explain in their blurb:
"In The Cycle the explored galaxy is controlled by massive Factions, but the mysterious outer reaches are still up for grabs. In their race to control these frontier resources, the Factions need contractors to do their dirty work. You are one of these contractors, competing for objectives such as collecting minerals or hunting wildlife while being careful to avoid or take down the competition."
So I believe we'll be scampering around a big open level, trying to complete different tasks (I'm guessing collecting minerals is easier than fighting that storeys-high stag shown at the end of the trailer) without getting eaten by aliens, shot by our fellow mercs, or trapped as the murderstorm closes in. It doesn't sound like a 'winner takes it all' situation, and Yager even talk about being able to form "temporary alliances" with other places for difficult tasks, though they're a bit vague about it all for now so I'll not over-reach with speculation.
The big German games show Gamescom is coming up towards the end of August, so I'm sure we'll hear more at or by then.
The Cycle is due to enter closed alpha testing in August, which you can throw your name in for on the game's site, then enter early access on Steam in "late 2018".