The Division's Underground DLC Coming On The 28th
Winter plunderland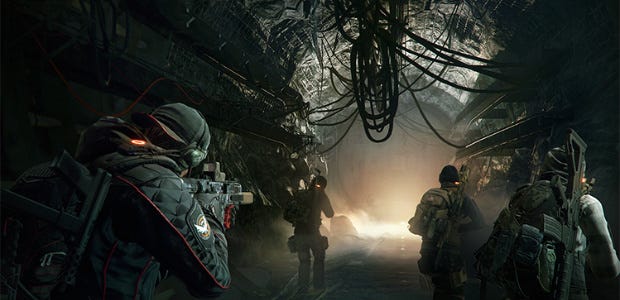 During their E3 press conference yesterday, Ubisoft confirmed that The Division's [official site] first piece of paid DLC, Underground, will launch on June 28. Alongside an obligatory trailer, the publisher delved into what it's all about, what new features it houses, and where you'll be sending your agents next.
The game's second expansion, Survival, was also teased in trailer form which plans to pit players against the harshest of NYC's elements. Trailers and info after the drop.
Across its randomly-generated sewers, Underground - the first of three planned expansions - tasks you with taking down a hostile group of ne'er do wells who've taken over Manhattan's underground network. "Get ready", says the narrator below. "And take the fight to them." That should look like this, assuming your sharpshooting's up to scratch:
In a subsequent blog post, Ubisoft explained a little more of what to expect from the first expansion:
"Underground brings a host of new features and loot, beginning with the expansion's eponymous mode, which puts Agents into subways, tunnels, and sewers generated with random layouts. Additionally, Underground features a new Incursion called Dragon's Nest, which will be bigger than those found in the previous updates.

"Set in Hell's Kitchen, it features the Cleaners as a primary enemy as they continue their haphazard and dangerous attempts to burn the virus out of New York City."
That's heading our way on June 28, which is also when Division players can redeem three full outfits representing Rainbow Six Siege, Ghost Recon Wildlands, and Splinter Cell from the Ubisoft Club, Ubi say, in celebration of the company's 30th anniversary.
As for the Survival expansion, details are thin on the ground for now - besides the fact the SHD agents are in a bad place and low on supplies. Check out its teaser:
With Underground coming, now might be a good time to reconsult the comprehensive RPS Division Guide.
Be sure to catch up with all of our other E3 2016 news this week.