The Elder Scrolls Online: Wherever you hang your cheesewheel, that's your home
Putting houses in order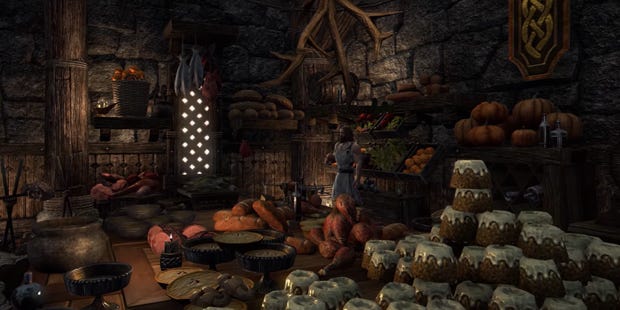 Homeownership is now possible in Tamriel thanks to The Elder Scrolls Online's [official site] first chunky DLC hit of 2017 (that's a phrase, right?). The free update has already landed in the PC version of the MMO and offers your characters the ability to buy real estate from apartments to islands. The only person I can think of off the top of my head who owns an island is Nicholas Cage and that's because he was flying to it on the same flight I was on once. As a result, ZeniMax can call this the Homestead update all they like but I'll be referring to it as the Nicholas Cagestead.
Oh, wait. I mean this:
The first rung on the property ladder is free (as it is in real life) so you complete an initial tutorial quest which I assume is all about where the boiler is and how to open the windows and whether it's in a good catchment area for schools and what the local shops are.
"Once that introductory quest is completed, players can move on and up, owning multiple homes of various sizes that can be shared across all of their in-game characters."
It also goes on to talk about customising your house:
"Owning a house is only the beginning of Homestead – it's not truly a home until you decorate it. Players can make their new residences truly unique by acquiring and placing more than 2,000 items with the game's new Housing Editor. Furniture and other décor are available through in-game vendors and the Crown Store, but players can also craft their own using existing crafting skills. Available décor includes tables, chairs, chests, beds, bars, counters as well as decorating items like books, food, barrels, paintings, light fixtures, plants, trees, and more. Looking for more utility? Players can also place items like combat dummies, crafting tables and assistants in their homes."
Obviously I now have the desire to create a weird greenhouse which... DAMNIT, ALICE. YOU KNEW I HAD OTHER THINGS TO DO TODAY WHEN YOU SUGGESTED I WRITE THIS.
The official blog entry has more info on how all of this works and some of the charges involved or restrictions that apply to the Imperial-style homes. Looking forward, TESO is going to Morrowind in June.