The Elder Scrolls Online launches week-long free weekend
Visit Tamriel for a week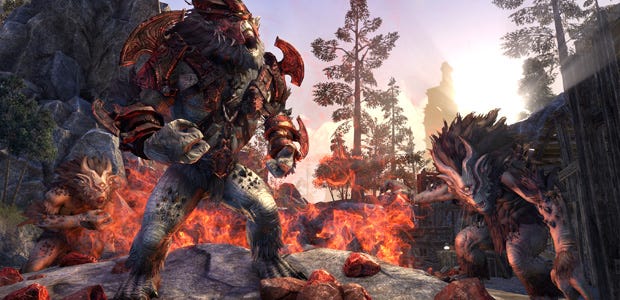 If the news outside of the game-o-sphere wasn't enough to convince you we're living in a post-truth world, then maybe this will change your mind. The Elder Scrolls Online is launching a free weekend that starts from today and ends on December 6th, but apparently that doesn't mean you can take every day until Wednesday as a day off. I've checked.
TESO was pretty shonky when it released, but three years of updates might have brought it to the point where it's worth giving a go. The Elder Scrolls VI isn't coming out any time soon, after all.
The trial will available be both through Steam and standalone. Free download links aren't up quite yet but should be soon.
If you're on the fence, you might be interested to hear that the One Tamriel update last year changed how levelling works so that the enemies in whichever area you're in scale to your level. Richard Cobbett will tell you that the game is still too bland to bother with, mind, though Alec had a bit more fun in the Morrowind expansion. Just bear in mind that isn't included in the free trial, nor are any of the other expansions.
If you do decide to hop back into Tamriel, ZeniMax will give you 500 crowns to spend in the in-game store for your trouble. You can spend those on useful things like potions, XP Scrolls or food, or eschew those functional earthly desires for a haircut or tattoo. But ignore all that, because you should obviously just buy a dog.
Any progress you make in the trial will carry over if you buy the game, which is half price at £7.49/$9.99/€9.99 on Steam until December 7th.