The Elder Scrolls Online Drops Subscription Fees
Not F2P, though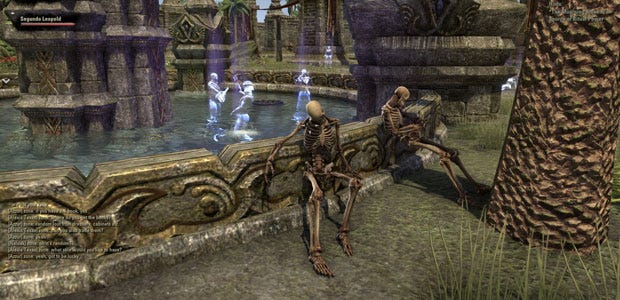 When a new MMORPG launches, one question nowadays is: how long until it ditches subscriptions or goes free-to-play? For The Elder Scrolls Online [official site], it's been eleven months.
Zenimax's unremarkable MMO take on the sprawling fantasy series stopped charging subscription fees yesterday, as planned. You'll still need to own a copy to play, you simply won't need to pay extra, like Guild Wars 2 and The Secret World. This comes shortly after a hefty update brought stealing and justice systems (you can hardly have an Elder Scrolls game without swiping everything not nailed down or murdering NPCs), new progression systems, a big old rebalancing, and more.
So yes, no more subscription fees. If you own it or buy it, you can play it wherever, whenever. This brings a new subtitle for the game too, turning it into The Elder Scrolls Online: Tamriel Unlimited.
Replacing subs, though, is an optional new 'ESO Plus' membership which includes all DLC, boosts to XP and gold and whatnot, and a big chunk of virtual coins to spend on jazz in the microtransaction store. The store sells cosmetic stuff like pets, mounts, and outfits, as well as more boosters. Previous subscribers will get a few of those coins as a one-time gift too. Check the FAQ for deets on ESO Plus and lingering subscriptions and whatnot.
That big update earlier this month was version 1.6.5, which has some pretty lengthy patch notes. I'm a little surprised ESO launched without burglary as that's pretty much all I do in TES games other than mod them into lovely huge tranquil forests.
Here's a trailer celebrating the change which shows off some of those new things: