The Elder Scrolls Online: Summerset is out, definitely isn't set in the West Country
The sum rises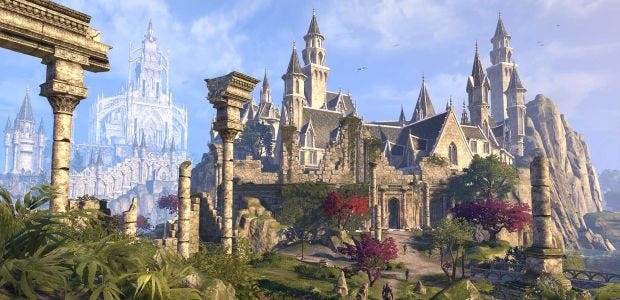 You lot already knew there was a place in Tamriel called Summerset, didn't you? I didn't. I'm finding out now with the release of The Elder Scrolls Online's latest expansion, and the idea of encountering "shining cities, vibrant forests, tropical lagoons, coral caves, mysterious ruins and more" in a certain British county is amusing me an unduly amount.
I don't know about most of that, but Wookey Hole is pretty nice.
Summerset is the ancient homeland of the Wurzels High Elves, and the expansion's premise is basically Brexit's but backwards. There's still plenty of looming darkness, mind: "For the first time in history, the long-closed borders of Summerset are open to foreigners by decree of Queen Ayrenn. But darkness looms over the ancestral home of the High Elves, and whispers stir of Daedric followers organizing in the shadows."
In this alternate-world fantasy forecast of Britain's future that's swiftly becoming my headcanon, at least many of the political upstarts are time-wizards. Those would be the members of the Psijic Order, a "secretive and mysterious" gang that have "returned to Nirn after centuries of self-imposed exile to investigate a crisis that threatens to unravel the future of Tamriel". The Pizzyjics introduce a new skill line that revolves around temporal trickery, like resetting your health, mana and stamina to what they were four seconds ago.
Note that since the One Tamriel update, TESO is an explorer-friendly MMO where according to Dominic Tarason "level has little bearing on what you can do and where you can go". So feel free to pop your head into Glasto with a character that's fresh out of the gates.
The Elder Scrolls Online: Summerset is available now on Steam and from the devs for £20/$30/€30. You'll need the base game to play it.