The Fast And The Führerious: Panzer Corps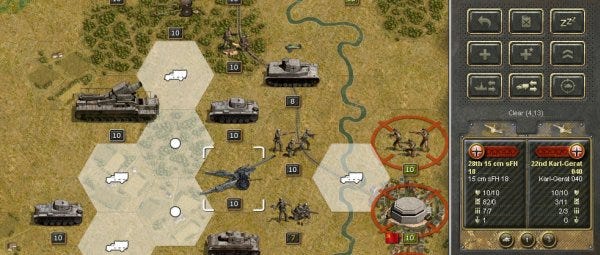 So long as I'm listening to Vera Lynn and posting about World War 2 strategy games, here's something we missed- Slitherine are also publishing Panzer Corps, their homage to the classic Panzer General strategy series, which I know is a classic because I think I saw it on my cousin's PC during one of those rare occassions my 8 year old self lifted his head from a bag of Monster Munch. The new game isn't a looker, but the trailer below sees the devs getting around that with admirable creativity. I've put some details together after the jump, too.

I'm not actually listening to Vera Lynn. I'm listening to this! That's Cactus's music blog, by the way. It's pretty great! And not dead, either. He's just behind a bit.
So, yeah. Panzer Corps will offer Nazi-centric turn based strategy with a branching campaign, units which carry over from one mission to another, famous real-life Aces to fill your tanks with and, most excellently of all, the Panzer VIII Maus. Only two of these absurd super-heavy tanks were ever built in real life (by Porsche, of all people), they had a top speed of 8.1 mph and had to be transported by specially designed train carraiges. Excellent stuff.
Trailer!