The Finite Infinity Of Winchester Mystery House
SpooOooky?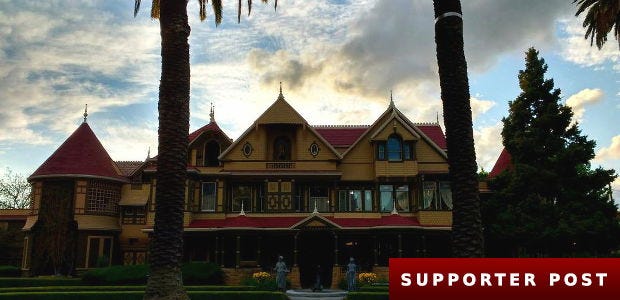 The official story of the Winchester Mystery House, the one the tour guide will tell you, is that the 160-room sprawling Victorian mansion was an architectural attempt to appease the spirits of those killed with Winchester rifles. A team of carpenters worked 24/7 for almost 40 years, building room over room around room inside room. Sarah Winchester believed she was cursed, a delightful chap who once played the dastardly Abanazar in an Aladdin pantomime will explain, and sketched her ideas for new rooms in seances. That's the official story, anyway.
I visited the Winchester Mystery House after GDC this year and would like to tell you about it. It's certainly the most exciting house I've toured, mysterious or otherwise.
Read the rest of this article with an RPS Premium subscription
To view this article you'll need to have a Premium subscription. Sign up today for access to more supporter-only articles, an ad-free reading experience, free gifts, and game discounts. Your support helps us create more great writing about PC games.
See more information