The Flare Path: Claas War
Freshly harvested sim and wargaming news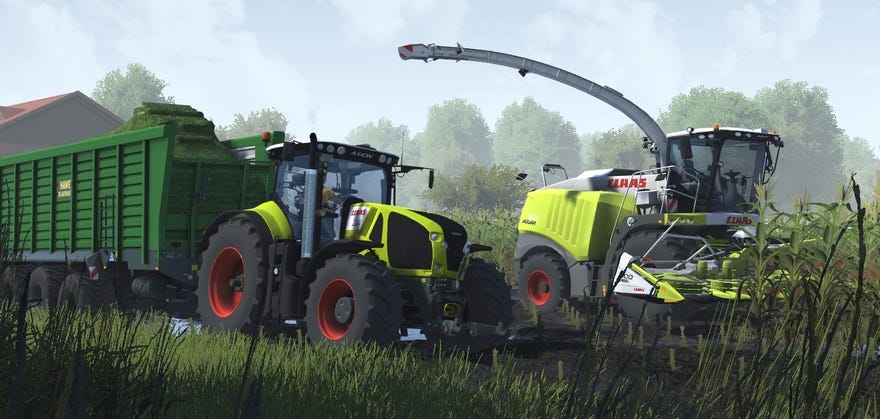 For the past decade GIANTS Software has had the farming sim sector pretty much to itself. None of the competing agri offerings that have arrived in the years since FS2008 first lowered a plough and spreadeagled a sprayer have succeeded in loosening the Swiss stranglehold. Might Cattle and Crops have what it takes? Now approximately a month away from a Steam Early Access release, C&C's not-so-secret weapons are physics, mud, and weather. Developer Masterbrain Bytes want to remind us why tractors are such stocky fellows and why they wear such big boots.
The constantly evolving tech demo available to supporters and press folk reveals a work-in-progress that is noticeably superior to Farming Simulator when it comes to modelling Newtonian niceties like friction, inertia and momentum, but a game that falls considerably short of Spintires in the mudplugging department. Heavy equipment can bog in soggy fields but soft wet earth doesn't squidge half as naturalistically as it does in Pavel Zagrebelny's groundbreaking groundbreaking sim.
Put through their paces in the 'parkour' area of the demo map, the plough pullers - most of which are handsome Claas machines – strain on inclines and flex going over lumps and bumps very plausibly. Occasionally though the physics engine does seem to get flustered. A tyre will clip through an obstacle, a tractor will struggle when it probably shouldn't.
In the pic above my steed is marooned. I had to detach the tank of slurry to escape the clutches of the riot squad of sleeping policemen.
In the field fancier physics translate into plenty of atmospheric swaying and jiggling, and, sometimes, a need to raise equipment or turn or reverse to navigate particularly cloying patches of muck. Unless you're dragging a harrow behind you, these messy manoeuvres leave telltale tyre scars and hollows. That feeling that you sometimes get in Farming Simulator that you're unrolling linoleum rather than interacting with loam isn't there in C&C.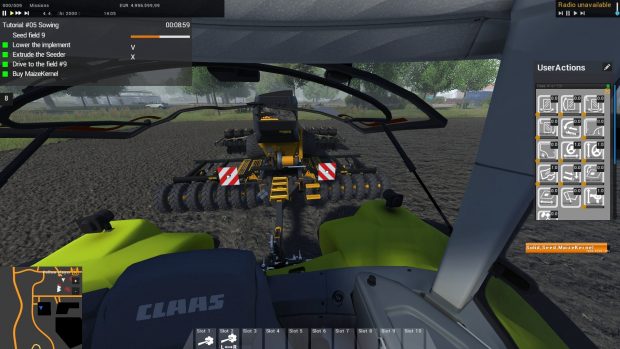 Audio is underwhelming at the moment. There's engine thrum but none of the creaks, squeaks and rattles that really should accompany agri plant in motion. Although cabs are attractive and dotted with mouseable hotspots for opening windows and doors, adjusting mirrors and steering columns, and activating wipers, the majority of knobs and switches don't respond to cursor caresses. Hopefully, cockpit interactivity and sounds will improve over time.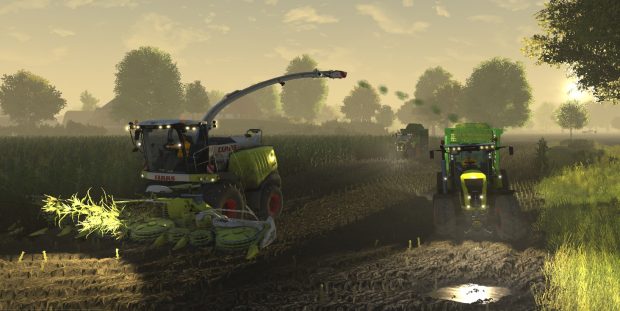 The tech demo lets you experience every stage of maize cultivation: muckspreading, ploughing, harrowing, drilling, spraying, and harvesting. The latter process is especially satisfying, the Claas Jaguar forage harvester feeding the maize into its maw with a swirling action that's both pleasing and prototypical.
The AI chase driver tasked with catching the chopped corn spewing from my outlet did a pretty good job of adapting to my idiosyncratic driving pattern. We came to blows only once, his blind determination to cross my path leading to a rather prolonged and unseemly shoving match that only ended when I admitted defeat and went into reverse. I blame myself for the contretemps. If the AI drivers can cope with irregular fields, they are clearly pretty smart.
I've yet to explore C&C's agronomy (apparently plant health and growth rates are influenced by numerous environmental factors) or animal husbandry but did notice that I was damaging young crops when blundering about with a slurry tank in tow. Structurally and economically the game seems to stick fairly closely to the tried and tested Farming Simulator formula. In sandbox mode earnings can be literally ploughed back into the business through equipment purchases.
I look forward to seeing Cattle and Crops' bigger clods harrowed to a fine tilth during the Early Access period. As moreish as Farming Simulator unquestionably is, it's about time someone took a flail to its hegemony. There's room for something muddier and more honest in this field.
* * *
The fierce competition between Dovetail Games and Dovetail Games continues to continue. In response to Dovetail Games cheeky release of 'Train Simulator 2018' - a £25 Train Simulator bundle including Austrian Welsh, and US routes – Dovetail Games have attempted to magnify the appeal of the more modern yet far more limited Train Sim World with a £12 GP-40-2 add-on.
Via Twitter they've also been hinting at delights to come. The sketched train silhouette above is a clue to the identity of TSW's third route. Chances are it's a German or Austrian electric multiple unit. Anyone recognise it?
* * *
I'm on tenterhooks at the moment wondering if DC Thomson will accept my draft for "Hoffmann's Hoplites'' a Commando comic about a glider full of WW2 Fallschirmjäger that lands in 480 BC Greece. They've promised me a yea or nay by December 5th which is surely a good omen as next Tuesday also happens to be the day Byzantine Games add extra Greekness to the fabulous Field of Glory II.
Immortal Fire (price TBA) is as plump as a plum olive. It will add eight new factions (Achaemenid Persians, Etruscans, Antigonos, Lysimachos, Spartans, Latins, Lydians, Kyrenean Greeks, Thessalian Greeks) ten new units (Persian Immortals, Persian sparabara foot, Persian armoured cavalry with bow, Persian improvised camelry, armoured citizen hoplites, armoured veteran hoplites, shallowly formed armoured citizen hoplites, Lydian cavalry, Carthaginian chariots, Macedonian prodromoi), 30 extra army lists and five more campaigns to a game that's already impressively cornucopic.
* * *
Judging by its perforated gun-port covers this Hurricane had a brush with the Luftwaffe before posing for its pixel portrait. One of the first in-game images of Wings Over the Reich, Old Brown Dog's WW2 follow-up to Wings Over Flanders Fields, it suggests that we'll be flying over France or England initially rather than Germany. While numerous other sims have depicted the Battle of Britain and the Fall of France, WotR promises to pale most earlier treatments with its lively shifting frontlines and deep squadron dynamics. OBD are known for their rigorous research and touching devotion to the solo simmer. Until the makers of IL-2 Sturmovik and DCS: WWII announce truly enticing SP campaign plans, Wings Over the Reich will remain my most anticipated WW2 flight title.
* * *
Good news from Seoul. Dev Arc have been in touch to tell me that Way of Defector their nerve-racking, dice-sprinkled flee-North-Korea RPG, will be a mere $3 USD when it goes on sale on December 12th.
* * *
Wolfpack, the co-op U-boat sim currently on the stocks at Skvader Studios, has come an awfully long way in the past year. Back in October 2016 the interior of the game's Type VII looked like this:
Today it looks like this:
According to Project Lead Neal Stevens, having just completed work on systems such as the sonar and the TDC, the small team are presently perfecting AI and detection routines. The relative orientation of your boat, the time of day, the weather, your depth, periscope height, periscope type, speed... it will all have a bearing on whether those freighters ahead start zigzagging.
* * *
If swept wings and swashplates are your thing, Digital Combat Simulator is a paradise. For simplicity lovers and seat-of-the-pants aerobats it's something of a wasteland. A high-fidelity Yak-52 due in the new year will help.
Compared to other DCS trainers and aerobatic aircraft – machines like the Hawk and Aviojet – the Yak is an affable low-tech laggard. Stable, rugged, and vice-less, with a relatively simple cockpit affording great visibility, if it's modelled as fastidiously as I suspect it will be (the module is an offshoot of a commercial training product) the 52 could well turn out to be the sim's friendliest aircraft. Love realism but hate manual poring and tutorial watching? This might be the perfect DCS aircraft for you.
Of course, the studious and the militant have modules to look forward to too.
* * *