The Flare Path: In Wuppertal
Simulation & wargame news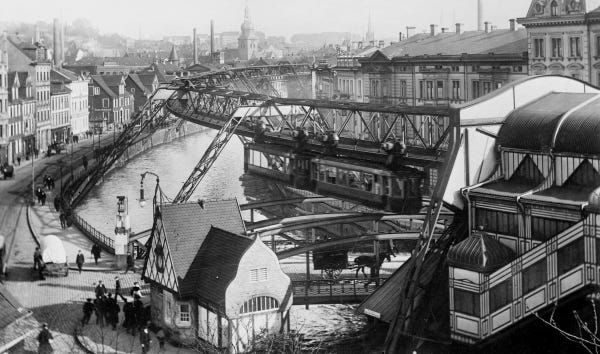 In Wuppertal black cats are cancelled out by white cats. Ladders are considered slovenly. The Umbrella Museum only opens when it rains. Chimney-sweeps double as gastroenterologists. Gastroenterologists triple as tripe inspectors. The word for school is also the word for kiln. Loneliness is next to godliness. Trees ache. Trams dangle.
Strange how things turn out. If Target For Tonight, a, literally, groundbreaking RAF night bombing sim, hadn't collided with a developmental church tower circa 2003, my first glimpse of the pretty North Rhine-Westphalian city of Wuppertal might well have been through the lens of a Mk XIV bomb sight rather than the windscreen of a sloth-impersonating two-car EMU.
Schwebebahn Simulator 2013 is the German sim industry at its most eccentric and parochial. Modelling all eight miles and twenty stations of the world's oldest suspended railway is certainly a novel idea. Whether it's a commercially rational one only time will tell.
After half an hour with the German-language demo (ten minutes of which were spent shouting 'Schnell! Schnell!' at my stationary steed) I have serious doubts. Once you've a) nodded approvingly at the cab functionality and sounds b) marvelled at the disorientating absence of rails, sleepers and ballast and c) realised that however fast you corner you can't shake yourself loose and and plunge through the roof of a deserted doll warehouse, the misgivings begin arriving thick and fast.
Obviously, there's no potential for freight movements. Without branches, points, or sidings, varied passenger operations also seem unlikely. It's hard to imagine where Schwebebahn Simulator 2015 will be set. Once Joindots have modelled Germany's other two, far less charismatic H-Bahns, and released the inevitable Thunderbirds...
and Bennie Railplane...
expansions, there'll be few places left to go.
The proximity of apartments to Wuppertal's steel skyroad could be the basis of an interesting Rear Window-meets-4.50-From-Paddington interactive whodunnit, but something tells me schwein will fly - or at least schwing from girders - before we see the Schwebebahn Sim engine adapted for that purpose.
A Javelin Through The Heart
Of London.
The fact that Joindots are based a forty-minute drive from the Wuppertal Schwebebahn might explain their quirky choice of theme. Not having to jump on a plane or scour the Web every time you need to check a bridge design, record an engine note, or source a plausible piece of graffiti, is obviously a major advantage when it comes to sim development. Even large outfits like RailSimulator.com can give into shameless localism on occasion.
Some of the research for RSC's latest Train Simulator 2013 expansion was done by staff during their daily commute. Glance left as you belt through Chatham in your horrifically modern Hitachi high-speed train and you might just glimpse the gold-plated Mallard-shaped HQ of the World's most industrious/business savvy rail sim studio.
Don't gawp for too long though. At Javelin velocities, signals rush towards you at a terrific lick. A unique, in Britain at least, TVM signalling system means you're always aware of current and approaching speed limits, but it's still dashed easy to break the rules.
With its lengthy tunnel sections, limited potential for freight scenarios, and excruciatingly scratchy windscreen wiper sounds this pack won't be to everyone's taste. That said, when the rain stops and concrete does eventually subside, the audio and scenery is really rather good.
Box quote:
"Yours for the price of a London to Faversham single (£25), London to Faversham features peerless simulations of both the Class 395 and the unbranded digestive biscuit" (www.rockpapershotgun.com)
Team Fewsion
1C might have washed their hands of Cliffs of Dover but a band of never-say-die MP pilots are determined IL-2's shambolic sequel won't be pushed from the plotting table just yet.
With the exception of the rather silly Hurricane wing break at 2.38 (Sydney Camm is barrel-rolling in his grave) all the enhancements look and sound promising. Team Fusion are obviously concentrating on buffing visuals and correcting flight and engine models initially, but hints in this SimHQ forum thread suggest future work may lead to buried features being disinterred. Is there a BoB2-standard dynamic campaign engine and AI manoeuvre library lurking unused in some gloomy corner of the code hangar? Probably not. Still, don't sell that copy of CloD just yet.
Speed Dreamer
Espeedrilles™, the first product from Flare Path's new hardware division, aren't selling too well, to be honest. Kunos Simulazioni, ISI, iRacing.com... all of the big motorsport sim devs have refused to be associated with my revolutionary pedal-incorporating deck shoes. Bastards. Being a spiteful sort of chap I intend to get my revenge by never mentioning them or their creations ever again.
From now on Speed Dreams will be the only motorsport software acknowledged by this column. Underneath the vintage visuals and fishy crash physics, is a free race sim I've found myself firing-up almost every day lately. Download the 132 MB installer then grab the two HQ car-and-track packs and you've got yourself the perfect small-footprint carwotgoesfast diversion. For quick bursts of wheel-to wheel circuit thrills it really can't be beat. Mouse and gamepad control is totally practical, but for the ultimate Speed Dreams experience, I strongly recommend a pair of comfy and stylish Espeedrilles™ (Now available in Lemon and Puce as well as Cerise!).
The Flare Path Foxer
Last week's Edelweiss-garlanded Gebirgsjäger were zabzonk, skink74, and JabbleWok. They found 12 vertiginous VLs amongst the alphabet scree.
FP's favourite TV quiz show is Pointless. Every night he watches it hoping 'Fleet Air Arm fighters', 'Anti-tank weaponry of WW2' or 'The works of Jane Austen' will be amongst the categories. The average Pointless contestant would struggle to find the theme binding together the seven collage elements below. The sort of coves that hang out round here, on the other strand, are shore to winkle it out.*
*And quickly see though mischievous attempts at seaside-themed misdirection.