The Flare Path: Remembrance
Simulation & wargame blather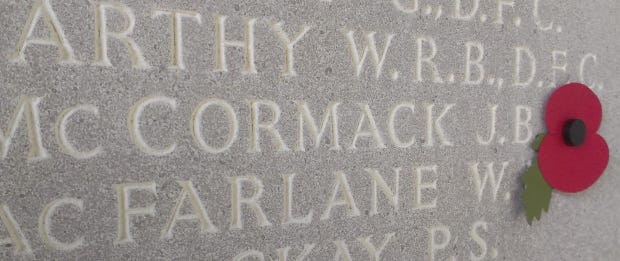 It's poppy season here in the UK. As usual the faux flowers appeared first on the lapels of politicians and TV newsreaders. By Sunday and Remembrance Day itself there will be paper buttonholes blooming in every street and workplace. The public - the communal - remembering will be in full swing.
Bearing in mind the games industry's complicated relationship with real-life conflicts, it's pleasing to be able to report that this year more entertainment artisans than ever are pinning virtual poppies to their products, and using November 11 to remind their younger, less historically literate customers of the unpalatable realities of war.
Fire up wargames like the Forgotten Fronts, the Drop Zones, or the Mud & Bloods next Wednesday and you'll find yourself greeted by a mandatory 'one-minute silence' pause screen. Before the order issuing and the counter shuffling commences, fields of swaying poppies or serried gravestones will encourage introspection, the slowly scrolling words of Laurence Binyon's 'For the Fallen' will arrest and challenge.
They shall grow not old, as we that are left grow old:
Age shall not weary them, nor the years condemn.
At the going down of the sun and in the morning,
We will remember them.
They mingle not with their laughing comrades again;
They sit no more at familiar tables of home;
They have no lot in our labour of the day-time;
They sleep beyond England's foam.
Other devs have gone further. Blitzcat (Target For Tonight) and Bulwark (Kohima: Stalingrad of the East) will be temporarily disabling their creations on Remembrance Day. High-handed? Some posters on the official forums seem to feel horribly hard-done-by. I suspect the aggrieved parties haven't read Fergal Keane's Road of Bones or Bruce Lewis' Aircrew recently.
You'll be able to play WWI flight sim Camel Squadron on Wednesday but stop one bullet or prang one kite and your fun is over for the day. Magda Ludford, lead designer at Tally Ho Interactive, hopes the 24-hour ironman inconvenience will "provoke thought" reminding players that real Great War pilots often "paid the ultimate price for mistakes and moments of inattention".
The Powder Monkeys, makers of Great War armour sim Mailed Fist, are planning an unusually elaborate and imaginative Remembrance Day Week digression. Between Nov 8 and Nov 15, users of this nerve-chafing tank game will find their mud-plastered Mark IVs replaced by gleaming 30-inch ATCO motor mowers, and their wire-strung hellscapes switched for pristine WW1 war cemeteries. The devs have gone to the trouble of building a perfect 1-to-1 representation of Tyne Cot, the Western Front's largest burial ground. Every gravestone is correctly placed and engraved. According to lead Powder Monkey, Patrick Carden-Lloyd "in their new role as Commonwealth War Graves Commission gardeners, players will have ample opportunity to contemplate the horrendous cost of WW1 'victories' ".
The warmachine worship at the heart of the massively successful, massively multiplayer Panzerland and Up Persicope! can leave a bad taste in the mouth. I can't be alone in wishing multimillion pound outfits like LMF Soft would, occasionally, take a break from the tech tree cultivation and the cash pile snow-angeling and draw inspiration from smaller, more thoughtful contemporaries like Turncoat Studios. On Remembrance Day, the minnows behind Gladiatorial air combat sim Fortress Malta introduce a new load screen system. Out are the pretty pre-rendered battle scenes and the tactical tips, in are a series of collages commemorating the pilots that fought in the skies above Valletta. Every day a different airman will be featured. We'll read snippets of logbooks and diaries, hear of escapades and ends. Turncoat want players to be intimate with those they imitate. How bally refreshing.
Another sim dev looking to squeeze a little extra history and humanity into firmamental fun is Norwich-based Singed Seraph Games. When B-17/B-24 game Aluminium Overcast finally arrives, the price tag will be a piffling £2. What appears at first glance to be evidence of economic illiteracy, is in fact an attempt to communicate grim military maths through a remarkably unconventional business model. Singed Seraph spokesman Dick Bickers explains: "When you buy AO you'll be randomly assigned a real WW2 Eighth Air Force flier. It could be a pilot, co-pilot, navigator, bomb aimer, waist gunner or whatever. Your install functions for as long as that real airman functioned. If the poor blighter detailed on your title screen perished during a training flight three weeks after arrival in the UK, then hard cheese - you'll have three weeks' worth of fun then you'll have to purchase again. If he bucked the odds and lived to see VE Day, congratulations, AO is yours for life. Life was a fearful lottery for Flying Fortress and Liberator crews - half of the USAF's WW2 casualties were suffered by the 'Mighty Eighth'. We wanted to communicate that fact in a fresh and powerful way."
The makers of digital war fare aren't alone in wishing to remember and remind. The developers of peaceable sims like Footplate, AgriSim, and Scalpel 3D are also planning to nudge their customers into contemplation on November 11. The PC's most realistic steam loco simulator will be getting a free 'Unknown Warrior' expansion next week. On the morning of November 10, 1920, a special South Eastern & Chatham Railway service conveyed the body of an unidentified British soldier from Dover to London. The add-on will recreate every aspect of that journey from the rolling stock and line, to the mourners that crowded station platforms on the train's route...
"The train thundered through the dark, wet, moonless night. At the platforms by which it rushed could be seen groups of women watching and silent, many dressed in deep mourning. Many an upper window was open, and against the golden square of light was silhouetted clear cut and black the head and shoulders of some faithful watcher... In the London suburbs there were scores of homes with back doors flung wide, light flooding out and in the garden figures of men, women and children gazing at the great lighted train rushing past." (Daily Mail)
"The carriage, with its small shunting engine, came in very slowly. The few civilians who awaited its coming on the platform took off their hats. Officers and the Grenadier Guardsmen drawn up at the end of the platforms saluted. There was great silence.... One heard a smothered sound of weeping. The smoke in the roof bellied and eddied around the arc lamps. The funeral carriage stopped at last. The engine-driver leaned from his cab." (The Times)
AgriSim's commemorative offering is called Polygon Farm. A picturesque Belgian map dotted with poppy-fringed fields and inviting copses, it looks like the perfect spot for some low-stress virtual cultivation. Only the roadside signposts - Poelcappelle 6km, Passchendaele 10km... - hint at Junebug's hidden agenda. The free venue is actually located in the heart of the Ypres Salient. Plough a Polygon Farm field and you run a small risk of detonating a century-old surprise. As 350 unlucky Ypres farmers have discovered since 1918, unexploded shells and bombs don't understand the concept of armistice.
This year's Poppy Day projects don't come bolder or more truthful than the upcoming 'Gillies Pack' for surgery sim Scalpel 3D. GodWasp have chosen to mark Nov 11 by celebrating the pioneering work of plastic surgeon Harold Gillies. Many video games claim to accurately model the tactical effects of bullets, shells, and grenades. Until now none have had the bottle to accurately model the physical effects of those same munitions.
* * * * * *
The Flare Path Foxer
Last week's collage criss-crossed the Atlantic pointing accusatory fingers at the pre-WW2 immigration policies of several countries as it went.
Theme: the "Voyage of the Damned" (defoxed by Artiforg)
a MS. St. Louis (All is Well)
b Atlantic (AFKAMC)
c Hapag-Lloyd logo (unsolved)
d Gustav Schröder (The Masta)
e Halifax, Nova Scotia (AFKAMC)
f Havana (phlebas)
g Bremer Vulkan shipyard (Rorschach617, AFKAMC)
h Visa (billy_bunter)
i Hamburg (mrpier, Artiforg)
j Évian Conference (Iglethal)
k Voyage of the Damned (Artiforg)
* * * * * *
Foxer Fact #420
Of the clutch of defoxing movies made in the late Sixties, Le Renardiste (1968) is generally regarded as the finest. Tracing the rise and fall of troubled collage cracksman Bernard Bonnodel, the three-and-a-half-hour epic performed poorly at the box-office, baffling many with its pictographic dialogue and bizarre humour. Only France's disaffected youth, militant trade unionists, and pipe-chewing encyclopedes seemed to get it. In a recent online poll the scene where Bonnodel mistakes an escaped penguin for a tiny nun was voted the 27th Funniest Moment in French Film.
All answers in one thread, please.