The Flare Path: Things to Come (Part 1)
2017 wargames worthy of yearn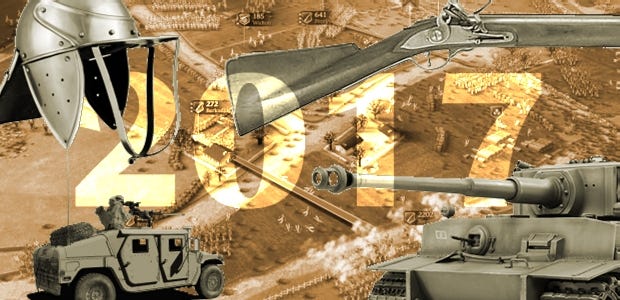 Until my ongoing Nostalgium 76 experiments bear fruit, Time will continue to march on in seven-league boots hobnailed with uncertainties; the Future will continue to yawn like a bored crocodile while we stumble towards it like distracted ducklings. On the bright side... [checks notes] soothsayers will remain in employment, caterpillars and acorns will have something to look forward to, and work-in-progress wargames such as the ten word-sketched in this week's column will get a chance to turn promise into pleasure.
Afghanistan '11
Vietnam '65 was a tangy hearts-and-minds TBS that mingled military hide-and-seek with mesmerising logistical donkey-work. Though the sequel, in closed beta since early October, automates some aspects of supply distribution (Forward bases will support nearby troops automatically) and grapples with potentially problematic themes (Destruction of opium fields damages Taliban finances. Does it also impact your all-important H&M score, I wonder?) I suspect it will end up every bit as entertaining as its forerunner. I'm particularly looking forward to trying the new historically-based 18-mission campaign mode and attempting to nation-build in a climate complicated by regular Afghan elections and US foreign policy shifts.
Unity of Command 2
2x2 refuse to be drawn on UoC2's release date, but bearing in mind the game has been on the drawing board for over two years, in active production since May, and is – visually at least – looking ready to roll, I'd be surprised if we weren't happily screening/slashing supply lines by next Christmas. The new engine has been designed with the Western Front in mind and can do airborne ops, amphibious landings, and "some naval action". Manually placed supply hubs promise to make logistics even more involving and resonant. And campaigns should hang together better thanks to unit and geographical carry-over and a less lethal combat model (AI retreats will be more common). Realising that the difficulty was "all over the place" in the first game, Tomislav and co. are going with a tree-shaped campaign this time. Defeats != repeats in the Python-coded, multiplayer-blessed, Unity of Command 2.
The Tactical Art of Combat
GI Combat, Squad Assault, Theatre of War, Graviteam Tactics, CMx2... numerous titles have looked like potential 3D Close Combats from a distance only to reveal very different characters on closer inspection. To evoke turnless Atomic classics like CC2 and CC3, a battle sim must combine realism with elegance, and pace with intimacy – no mean feat. Because The Tactical Art of Combat is being constructed by a team of ardent Close Combat fans, at least one of whom has been chasing the next-gen CC dream for over a decade, I'm hopeful it will get its DUKWs in a row. Screenshots of Art of Combat: Anzio '44, the first instalment in what will, if all goes to plan, turn into a sizeable series encompassing all major 20th Century wars, provide tantalising glimpses of both tactical play and a CC4-style strat layer.
Should Art of Combat fail to deliver, there's always Matrix/Slitherine's CC project to hang hopes on. The camera-shy and long overdue Close Combat: The Bloody First has been delayed by an engine shift (Unity 3D to Slitherine's in-house Archon engine) but is tentatively scheduled for a Q3 release.
AGEod's English Civil War
Finally. My 35-year wait for a serious strategic treatment of the ECW is set to come to an end mid-April. While Pike & Shot recreates the conflict's skirmishes and pitched battles with aplomb, its simplistic strat layer can't do justice to the atomised nature of the national picture or properly represent the tangle of background events that influenced the war. On paper the AGEod engine with its event cards and densely patchworked maps has a much better chance of delivering a credible, flavoursome simulation. Aware that many struggle with larger scenarios in AGEod games, the designer of Wars of Succession, the other series title due next year, is taking steps to ensure his creation doesn't overwhelm. Let's hope similar thinking informs ECW.
Various Combat Mission expansion packs
Battlefront have ruffled feathers and lost brownie points in some quarters with their latest pay-to-patch initiative. The slew of Combat Mission expansion packs planned for 2017 will need to be strong and attractively priced to restore eroded goodwill. In theory by this time next year CM: Red Thunder, Black Sea, and Final Blitzkrieg will all sport modules and CM: Fortress Italy will have acquired its second. A Black Sea battle pack is also in the offing.
Armoured Commander II
Having noticed that computer wargamers were roguelikeless, Rev_Sudasana set about filling the Falaise Gap using tanky solitaire board game Patton's Best as a template. The free Armoured Commander eventually ran up against the dragon's teeth of a fairly crude inherited rule-set, and its frustrated coder moved on to Armoured Commander II, a sequel incorporating randomly generated hex battlefields and control of individually tracked (and detracked?) wingman vehicles. Although it's early days, footage showing movement and shell exchanges suggest AC2 will work minor miracles with its ASCII AFVs and Advanced Squad Leader-sourced Combat Results Tables.
The Operational Art of War IV
TOAW IV is a big-picture hex wargame that lets players hop between 20th Century conflicts the way hungry oxpeckers hop between hippos. What started as an update for TOAW III eventually burgeoned into a standalone project with a Q2 2017 release date. There are few details available yet, but given the pedigree and the lack of fanfare I'm expecting...
* a fat scenario folder crammed with neglected conflicts and forgotten fronts
* solid AI
* excellent modding facilities
* underwhelming visuals
Panzer Battles 3
It looks like Tillerites are in for a good year. A licensing decision made last summer, means the platoon-level Panzer Battles engine is now in the hands of a band of independent hex hewers and OOB researchers called Wargame Design Studio. In March we will be getting a hulking ten-scenario demo featuring rarely recreated scraps like the battles of Hannut, Tenaru, Belgorod, and Mersa Brega. The latter engagement is a dust-caked outrider for Panzer Battles 3, a generously proportioned chocolate box of North African and Cretan battles also on the cards for 2017.
Unnamed Galley Combat Wargame
Since the release of his moreish chariot racing TBS Qvadriga, Turnopia's Daniel López, assisted by Slitherine, has been toiling away on a naval game inspired by the wetter bits of Ben-Hur. He's not ready to go public quite yet, but as games about oar-powered naval warfare aren't exactly two-a-denarius, and Daniel has already demonstrated a talent for turning novel themes into compelling clutter-free game mechanics, I'm optimistic.
Ultimate General: Civil War
Nick Thomadis intends to spend the first half of 2017 cramming additional aggro into the already impressive Early Access UGCW. Just before Christmas, a fragmented Fredericksburg appeared amongst the game's historical battle selection and helped extend the web of scenarios that constitute the campaign. Gettysburg, Chancellorsville, Chickamauga, Cold Harbor, Richmond, Washington, and Stones River, together with 13 minor battles, will be in place by the start of the summer.
It will be interesting to compare Game-Labs' interpretation of Gettysburg with Shenandoah's. The makers of Drive on Moscow and Battle of the Bulge are aiming to send their first hex-endowed, non-WW2 title out into the world in June or July.
* * * * *