The Flare Path: Under Pressure
Simulation & wargame blather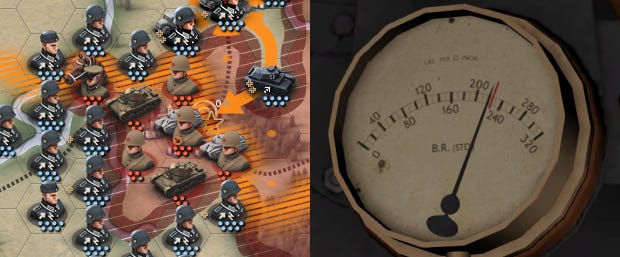 Knickers. I've just drawn Reader #3232 in the RPS Secret Santa draw. This year I'm buying for a chap who scribbles scores on his two-year-old son's art, described Papers, Please as "adequate", and last smiled in 1998*. Perhaps something in his reader file will trigger a gift idea.
Hmm. It appears he "tolerates wasps" and has a "grudging respect for the work of 19th Century sewer engineer Joseph Bazalgette". That's something, I suppose. Hang on - what's this? "During a visit to the Somerset Shoe Museum in 2010, #3232 was overheard discussing Boyle's Law and representations of Romanians in contemporary videogames". Now that is interesting.
*He heard that Pol Pot had died.
Don't tell Reader #3232, but this year he's getting either a copy of unmissable Eastern Front wargame Unity of Command (together with the imminent Black Turn DLC, natch) or a copy of Train Simulator 2014 embellished with Just Train's fab 4MT steam loco add-on.
UoC: Black Turn is out next Tuesday. A review embargo and the fact that I'm only about halfway through the 13-scenario Operation Barbarossa campaign means I probably shouldn't use words like 'gripping' or 'beautifully engineered' to describe it. What I will say is that anyone hungry for high-calibre history-steeped hex entertainment shouldn't spend all their money in the Matrix Games sale this weekend.
Steering the snapping jaws of a mighty military Cerberus in the directions of Leningrad, Moscow, and Stalingrad (the campaign follows the progress of Axis Army Groups North, South, and Centre) has reminded me how much I adore Ante Turudić's shrapnel-sharp AI routines. Startled and sub-standard, the early war Soviets could be deadly-dull opponents in less capable hands. In this treatment they're mesmerising, abandoning untenable positions, setting up new stop lines on river banks and city edges, and attempting sly supply-line-severing counter-attacks when opportunities arise.
Rapid eastward progress is inevitable at first. What keeps the campaign devilishly tense are tight timetables and all-or-nothing victory conditions. Fail to take full advantage of your motorized divisions, consider the vulnerability of all-important supply arteries, or rotate battered units out of the front line, and you can very easily find yourself a couple of hexes short of a vital objective when a scenario sunsets. Pace is everything. The successful commander is the one constantly scanning the battlefield for breakthrough and encirclement opportunities, not methodically eliminating every Ivan in his path.
People that might not enjoy Black Turn:
Russians (Apart from a couple of standalone scens, it's an all-Axis affair)
Romanians (The forces of the minor powers are as hopeless as ever)
Reader #09 ("Russia again? When are 2x2 going to do the Desert War?")
Reader #9886 ("No NATO counters, no sale.")
Silly arses
Sandbox of Delights
When you've experienced the flight simulator add-on scene at its magnificent best, it's hard to get excited about the majority of Train Simulator adjuncts. Often shallow, sometimes unconvincing... truly brilliant loco recreations are rarer than iron horse poo.
The closest thing footplate aficionados have to a PMDG, A2A or DCS-standard ride is probably Just Trains' new Standard 4MT for TS2014. Single-handedly making up for the scandalous lack of coal munchers in the base game (Seriously RSC, Robert Stephenson must be spinning in his Westminster Abbey grave) the post-war British Railways 2-6-0 boasts the kind of deep modelling that - with a few notable exceptions - rail enthusiasts have long been denied.
Even children of the Diesel-Electric Age are likely to find themselves enchanted by the prototypical procedures and physics. Take 'warm starts' for example. Because cold-starting a steam loco takes hours, the devs sensibly draw a veil over fire setting and steam raising. When you clamber aboard, there's already a merry blaze roaring in the firebox and hot gas coursing through the boiler tubes. 'All' you've got to do before getting under way, is nip outside using the free-cam, top up the animated sandboxes, prime the valve gear lubricator, open the smokebox and shovel out any ash deposits, then return to the cab and conduct 'blowdown'. In the same way that waggling flight surfaces, and inspecting plugs and oil in the A2A Cessna gives that machine rare presence, completing grimy chores before and after runs in the 4MT, emphasises physicality already etched by the excellent physics and sound.
It's always a dangerous claim for a simmer to make, but after a week or two with 4MT 76084 and its encyclopaedic 50-page manual, I suspect I could operate the real loco (currently operated by the North Norfolk Railway) without a) killing anyone or b) doing extensive damage to a pricey piece of heritage rolling stock. Passenger beverages would doubtless be slopped on passenger groins occasionally, numerous platforms missed and signals passed at danger, but thanks to detailed damage modelling and fastidious simulation of features like injectors, cylinder cocks, and water gauges (effected by inclines and harsh braking/acceleration) I reckon I could probably avoid driver faux pas like 'priming' (caused by an overfilled boiler) and - the steam engine equivalent of exposing the fuel rods in a nuclear reactor - melted fusible plugs.
Look out for a future Flare Path column in which I test this bold claim via one of the North Norfolk Railway's £425 'driver experience days' .*
*Column dependent on office whip-round or lottery win.
The Flare Path Foxer
Edward Fox foxhunting in a FV721 Fox armoured car near Foxham. That's how foxy last week's foxer was. Despite some inspired airframe analysis by skink74 (Airspeed Oxford) Wrekin762 (Short Belfast) FhnuZoag (Brewster Buccaneer/Bermuda) and SpiceTheCat (Gossamer Albatross), nifty naval gazing from Julhelm and phlebas (Jean Bart) and expert EMU elucidation from foop (Brighton Belle) the hidden 'trousers' theme stayed hidden. Would a selection of rifle breeches or a glimpse of Ford Capri have helped?
A. Jean Bart
B. Short Belfast
C. Airspeed Oxford
D. Flies
E. Gossamer Albatross (technically, a pedal pusher)
F. Brewster Bermuda
G. AOTD chart showing the Great Belt
H. Southern Belle timetable
Talking of help, FP would appreciate some assistance with the following puzzle puzzle. While clearing out shelf 8 (British Aircraft) in his colossal Louis Quinze jigsaw cabinet the other day, he came across the 26 jigsaw fragments pictured below. If you can put names to the ten featured aircraft types, that would make returning the pieces to the appropriate boxes much easier.