The Foxer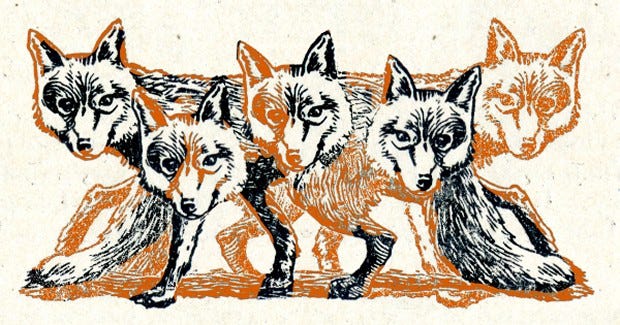 Warm-Up Foxer (Who am I?)
I'm an excuse for picnics and parades. I have nineteen digits. My name sounds canine but is actually bovine. I'm often depicted in the company of a winged workmate. I was alive at the time of the First Crusade. My wife made a little go a long way. I'm associated with animal kindness and animal cruelty. If you want to see me you'll need to talk to Felipe Juan Pablo Alfonso de Todos los Santos.
Feature Foxer (word ladder)
Roman's word ladders don't work like standard word ladders. You clamber from bottom to top placing appropriate five-letter words on each rung. Usually a word inherits three identically positioned letters from the word below it (the exceptions, marked (A), are anagrams of the words below them). Clues should make the climb easier, but be aware that my unspeakably fiendish Chief Foxer Setter has shuffled the ten clues on the upper half of the ladder (clues 11 to 20). For example '(A) Bigger than a corvette, smaller than a frigate' probably doesn't belong next to rung 20.
20. - - - - - (A) Bigger than a corvette, smaller than a frigate
19. - - - - - European small arms manufacturer
18. - - - - - Jungle Book character
17. - - - - - Member of the Irish Republican Army
16. - - - - - She assisted the Luftwaffe during WW2
15. - - - - - Archaic crown
14. - - - - - 20th Century Italian PM
13. - - - - - First-generation naval SAM
12. - - - - - Important figure in the anti-apartheid movement
11. - - - - - Asturias fell despite his best efforts
10. - - - - - De-anglicized courage
09. - - - - - RN destroyer that served in both world wars
08. - - - - - Führerbunker survivor
07. - - - - - Entombed in a tree circa 1941
06. - - - - - 19th Century river remodeller
05. - - - - - British Army pickup
04. - - - - - IKB's favourite shade of green?
03. - - - - - Wrote late but great Hundred Years' War war poem
02. - - - - - Maker of cute French microcars
01. r e l a x
* * * *
SOLUTIONS
Last Week's Warm-Up Foxer
Answer: I was strontium (defoxed by alison)
Last Week's Feature Foxer
Theme: kisses (defoxed by Shiloh)
a Frank Cousins (Shiloh)
b snooker balls (Little_Crow)
c Matilda Frog (Rorschach617, Stugle)
d executive curl (Arioch_RN)
e X-3 Stiletto (AFKAMC)
f French bulldog (AbyssUK)
g Glasgow Subway logo (AbyssUK)
h Gregory Peck (AbyssUK)
i Jonathan Blow (phlebas)
j Judas goat (AFKAMC, phlebas)
k Chase XC-123 (Stugle)