The Foxer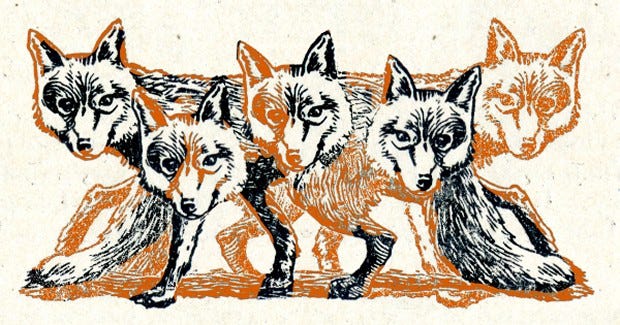 Warm-Up Foxer (Who am I?)
My father died of influenza. Eric Arthur Blair was among my admirers. I fought in South Africa. I had, for a period, something fundamental in common with a Patrick O'Brian character. On one occasion I was saved by a sunset. I was a superb slow bowler. I had a cunicular chronicler. I lived nextdoor to the Royal Academy.
Feature Foxer
The 127-cell honeycomb below is a fancy form of wordsearch in which every cell is used, and words can curl and zigzag but never overlap. Each hive foxer has a unique theme – the last one was 'Harry Potter' – but Roman respects the defoxing community far too much to disclose it prior to defoxing. What he is prepared to tell you is how many words you're looking for. The perfectly interlocking solution to today's puzzle is made up of 26 words.
* * *
SOLUTIONS
Last Week's Warm-Up Foxer (defoxed by Gusdownup and phlebas)
I was the Jules Rimet Trophy
Last Week's Feature Foxer
Roman blames Wikipedia for last week's feature foxer impasse. According to him, the pictured 0-6-0 (i) is, was, and forever will be a 'Q1' - no engineman or enthusiast would dream of calling it an 'SR Q1'. I've taken his word for it, but asked him to ensure future Missing Letter foxers are free of similar stumbling blocks.
Missing Letter: S
a UAE (Little_Crow, AFKAMC, Stugle)
b LBJ (Stugle)
c FN FNC (phuzz)
d KGB (Stugle)
e GAZ ZIM (AFKAMC)
f VAB (AFKAMC)
g Y (phlebas)
h WHO (Little_Crow)
i Q (Little_Crow)
j XOR (Little_Crow, Lazzars)
k PPD (unacom, Gothnak, AFKAMC)
l TLL (AFKAMC)