The Foxer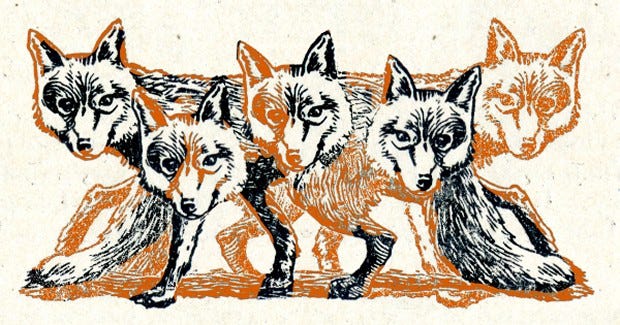 Roman's attempt to de-cobweb the defoxing annexe's atrium using his hydrogen-filled RC model of the Hindenburg ended in disaster yesterday. I was out on a provisions run when I received the following text from Maxine - 'Oh the humanity! Hindenburg ablaze!'. Thankfully apart from some melted Matilda IIs on our Operation Battleaxe diorama and a gutted signalbox on our railway layout, all the damage was superficial. The sections of smoke-blackened ceiling are to be repainted over the weekend, and Roman has given me his word as a gentleman that no replica airships will be involved in the process.
Below is a list of '30 Things That You Might Find in a Theatre' ('things' is used here in its broadest possible sense, 'theatre' in its most theatrical). Entries have been stripped of vowels and had any inter-word spaces repositioned. For example, if 'box office' was present, it might appear as…
BXF FC
Thespian would be…
THSPN
The last five entries in the list – those marked with asterisks – are especially fiendish. Not only are they vowel-less, they have also been anagrammed.
1. HM
2. RB RPT
3. THS CTT SHPLY
4. STRGN
5. HNMCH
6. NCR
7. SPRS WNG
8. STGWH SPR
9. ST VNTST
10. FR THWLL
11. WDWTWN KY
12. LVV
13. CHR STND
14. STY RPLY
15. SPRGS
16. C
17. THN DRRN
18. RDMCH NCL
19. DTN
20. LDYWN DR MRSFN
21. CR TNCLL
22. THS ML LFTHG RSP NT
23. PRSCNM
24. STGFRG HT
25. HNRYRT HBN
26. TPPPR*
27. BY RLX*
28. DLVVNL*
29. PFL*
30. KSSSVLNT*
* * *
SOLUTIONS
The twelve locations in last week's 'end of the road' geofoxer:
a Temple Mount checkpoint (phuzz, mrpier)
b RAF Cardington (Stugle)
c Mercury highway, Area 51 (phuzz)
d Mount Etna (phuzz)
e Road SE of the Rama VIII Bridge, Bangkok (Lazzars)
f Westereems windfarm, Groningen (Matchstick)
g Monza (Gothnak)
h Chernobyl (Stugle)
i Border crossing between UAE and Oman (Stugle)
j Spur Battery, Gibraltar (unacom)
k Fukushima (Gothnak)
l Quai Amiral Infernet, Nice (Stugle, unacom)