The Foxer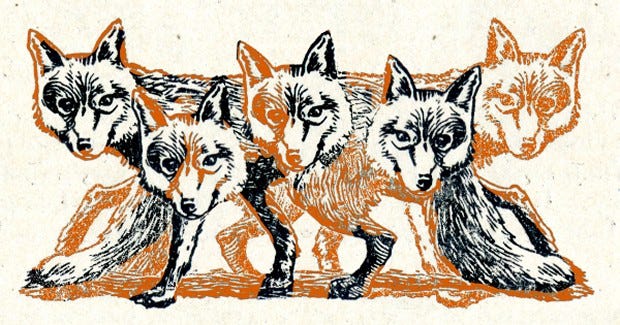 The field beside the defoxing annexe is a mass of aurochs-eye daisies at the moment. Much larger than the more common ox-eye daisy, the aurochs-eye is the only variety of Leucanthemum known to wink. Some say the heart attack that took the life of four-time Derby winner Blue Pasha was caused by a patch of aurochs-eyes flashing their florets at him as he was passing.
Below is a list of 30 Things That You Might Find in a Garden ('things' is used here in its broadest possible sense). Entries have been stripped of vowels and had any inter-word spaces repositioned. For example, if 'watering can' was present, it might appear as…
WT RNGCN
Foxglove would be…
FXGLV
The last five entries in the list – those marked with asterisks – are especially fiendish. Not only are they vowel-less, they have also been anagrammed.
1. SNDL
2. RBTM WR
3. GRTRDJKY LL
4. T R FLF
5. GTRPSM
6. CLNCR VN
7. BHV
8. CM MLLWN
9. LTNFN TN
10. LNLL
11. NDR SNSHLTR
12. CL DMNT
13. SWTWL LM
14. BR THRCDFL
15. F RTCG
16. MSSS K
17. JD SSCRT
18. SPRSK R
19. CCKS PT
20. CHN CYGRDNR
21. RSRB R
22. THN MB
23. GRGRMN DL
24. LMPY
25. NYMS
26. WNNMS*
27. LHXP*
28. PYRT*
29. CVTD*
30. BBRRRR HCF*
* * *
SOLUTIONS
Last week's collage theme: Chicago's underground freight railway (defoxed by Gothnak)
a. British Army field marshal cap badge (Barfo)
b. Stamp commemorating Chicago's Century of Progress Exposition (Rorschach617)
c. British Rail freight sector logo for coal (phlebas)
d. James Baldwin (AtlasIsKing)
e. Audio induction loop logo (Little_Crow)
f. M36 Jackson tank destroyer (Rorschach617)
g. Cable knitting needle (Gusdownup)
h. Ash grapheme (Lazzars)
i. Supermarine Type 508 (AFKAMC)
j. Tunnels & Trolls rulebook cover (phlebas)
k. Icons from The Flame in the Flood (unsolved)
l. Album art from Air's Moon Safari (phlebas)