Deadly Premonition director's The Good Life visits a town where people turn into cats
Deadly Premonition + cats = yes please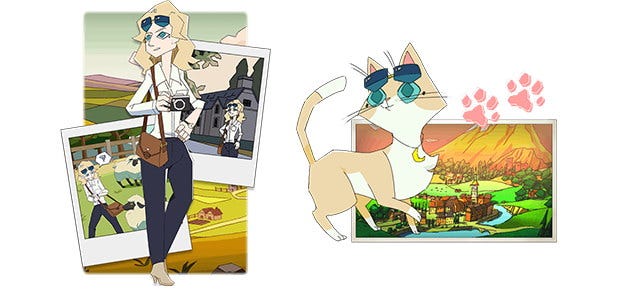 We're off to a small English town where everyone turns into cats at night with the first game from the new studio of Deadly Premonition director Hidetaka 'Swery' Suehiro. The Good Life [future Fig page] is a "daily life RPG" with a dash of mystery, roaming the town as a human by day and by night exploring places only cats can go. I adore nosing around town, meeting people, and peering through windows in Deadly Premonition -- the world's worst best game -- so this sounds splendid. The Good Life is due to launch a crowdfunding campaign in September, which sounds grand as I'd love to see Swery doing what Swery does without publisher interference (combat in Deadly Premonition was famously a publisher's idea).
The Good Life was revealed yesterday by a newsletter from crowdfunding site Fig, which seems to have been released a little early. Seeing as the campaign page isn't live yet, all I can really offer you is the blurb from the newsletter:
"The game is set in Rainy Woods, the self-proclaimed "happiest town in the world." Here, you'll play as Naomi, a photographer from New York who finds herself stuck in this small town in rural England. She's found a way to pay off the massive debt she's accumulated, but she soon discovers that the town is hiding a very bizarre secret...

"At night, all of the town's residents turn into cats. Why does this happen? Is this why everyone in town is so happy? No one seems to remember what they do at night. Naomi is here to find out what's going on in Rainy Woods.

"The townspeople aren't the only ones who get to roam around at night as a cat - Naomi does too! Once the sun sets, you'll get to explore Rainy Woods and collect clues and important items connected to the events of the story. The town becomes a very different place at night, as certain secret paths, rooftops, and attics can only be accessed by cats."
Fantastic. I'm in.
This does sound somewhat similar to the novel Swery was writing, a murder mystery in a British countryside town written from the perspective of a cat. This was while he was taking a break from games to recuperate, before he left Access Games and opened White Owls. Ideas percolate.
Swery says that The Good Life "will inherit the spirit of Deadly Premonition, my most representative work, but it will also feature a brand new style of gameplay." He added, "I'm positive that the happiest town in the world and the most bizarre townspeople in the world will capture your heart and pull you deep into their world."
The campaign is due to start on September 3rd. I can't yet tell you how much money it will seek and when White Owls expect to launch The Good Life if they succeed. Please let them succeed.
I adore Deadly Premonition. Parts of the open-world survival horror murder mystery are so janky and the port is awful but it has such heart. Once I settled into the melodrama, I came to feel at home in the rainy Pacific Northwest town of Greenvale and fond of its weird residents. It's funny, it's touching, it's surprising, and it pulls off twists that so many other games would muff up. Good video games. I've written a bit about it before in a Have You Played? and Sam Horti recently declared it an underappreciated game that still could be learned from.