The Heroes & Generals Beta Wants You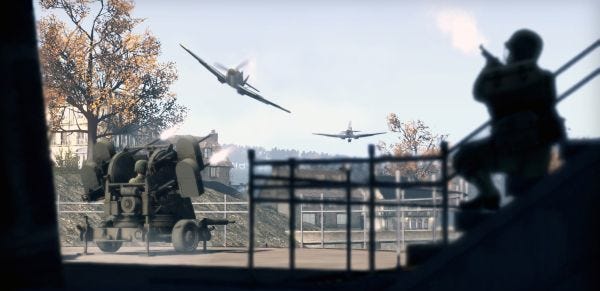 The only game I've actually played today has an '@' where you might expect to see a person, not even bothering to trot down to uncanny avenue, and yet I find myself posting a second video with actual human beings in it, running around and doing things, ambulating and acting. This trailer feels like a call to arms as Heroes & Generals looks to expand its beta community and although live action advertisements for digital playgrounds should rightly be pelted with vials of furious wasps this is an enjoyably silly example. There's a part when some people pretend to be a tank and that's always good to see. When I play (soon), it'll be mostly for the bikes and...well, watch to the very end.
It really does make this headline reference all the more relevant. I reckon it's an unofficial adaptation.
I've read lots of positive things and hopefully I'll be writing some positive things of my very own in the coming weeks. Sign up for the beta here.