The Humble Care Package Bundle packs Stardew Valley, Her Story and more
So much goodness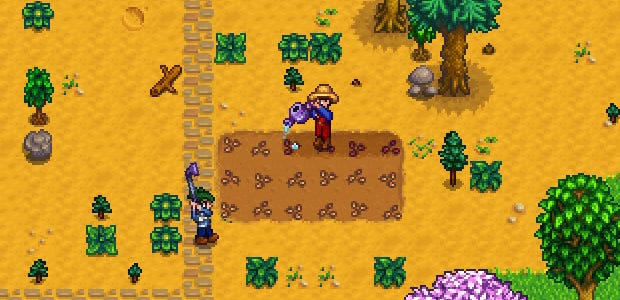 It seems IGN's recent purchase of Humble Bundle hasn't compromised their ability to put together a pack of awesome games. For the next 5 days, The Humble Care Package Bundle offers 27 games--including Stardew Valley, Darkest Dungeon, and Pony Island--for $30 and all of the money is going to emergency relief charities, which makes this one well worth checking out.
I'll go into my favourite picks from the bundle in just a second, but first I'll mention where the money is going. Humble are splitting it across 5 charities: Direct Relief, the American Red Cross, GlobalGiving, Save the Children, and Doctors Without Borders/Médecins Sans Frontières (MSF). They will also match the first $300,000 raised.
Onto the games! Stardew Valley might be the highlight. It does an excellent job of transporting you to a farm in a peaceful rural town. It's a crime to not link to Paul Dean's beautiful reflection on life in the real and virtual realm at every opportunity, so here you go.
I'm also a big fan of Pony Island, as is John, who guarantees that "you will have a completely unique and interesting time". The less you know about it before going in the better, so I'll move straight along.
Her Story is another game that plays unlike anything else out there, where you have to piece together a murder mystery from interview footage. It's the closest you'll ever come to feeling like a real detective.
Oh, and if you somehow haven't played Magicka yet, then this is your chance to fix that.
Here's the lot: Arma: Gold Edition; Darkest Dungeon; DreadOut; Duck Game; Fearless Fantasy; Grey Goo; Her Story; Jump Stars; Kholat; Lakeview Cabin Collection; Machinarium Collector's Edition; Magicka; Mighty No. 9; Minecraft: Story Mode; Move or Die; No Time to Explain Remastered; Pony Island; Primal Carnage: Extinction; Psychonauts; Shadowrun Returns; She Remembered Caterpillars; Sorcerer King: Rivals; Starbound; Stardew Valley; Stronghold Legends: Steam Edition; The Incredible Adventures of Van Helsing; and The Park.
Supplies of Darkest Dungeon and Move or Die are limited, so you might want to move quickly.
With this many games to sort through, chances are picking this up will net you something that you haven't already played. Remember that you can always send anything you already have as a gift, which means that if your friends and family somehow consists entirely of people that play games this is basically Christmas sorted.
You can buy the bundle from the Humble Bundle store, where you'll need to pay at least £22.78/$30.