One Dota 2 Team Will Win An Eye-Watering $9m Tonight
The finals countdown!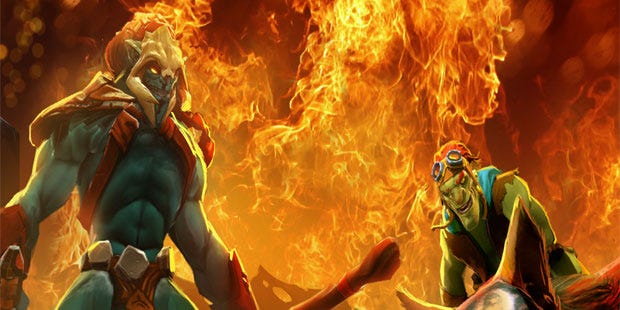 This is it! The grand final of The International 2016, Dota 2's [official site] ultimate world championship, is mere hours away. Two matches and three teams remain so if you're still catching up with Friday's action BEWARE SPOILERS!
Chinese squad Wings have already secured their top two spot after beating Evil Geniuses yesterday, while EG will face shock contenders Digital Chaos to determine a) which is the superior USA-based team and b) who will go up against Wings for the biggest piece of a bonkers $20.5m prize pool.
Last night's Dota was, once again, of the premium quality that TI can showcase like no other tournament, but Valve did manage to overshadow it somewhat with a surprise announcement after the final game of the evening: Monkey King! Sun Wukong, named and styled after one of China's most popular and enduring folk myths, will become Dota 2's first all-new hero (in the sense that there was no real counterpart in the original Warcraft III mod) when he's released in the appropriately-named New Journey update.
In typical Valve fashion, details are scarce, but judging by his teaser video Monkey King is a slippery hero who can create illusions (oh, yay) of himself and disguise himself as a tree, as well as extend his staff (which itself is styled on the Monkey King Bar, an item that's been in the game since its inception) for longer-ranged attacks. This all comes hot on the heels of Thursday's Underlord reveal; considering new heroes make their way into Dota 2 months and months apart these days, having two in relatively quick succession is an exciting prospect.
Speaking of exciting, back to the actual TI6 games. A SEA showdown kicked off the day with MVP Phoenix fighting Fnatic in the lower bracket round 4, with a frankly on-fire Fnatic taking yet another 2-0 victory. Game one saw some standout Sand King play by Fnatic offlaner Ohaiyo, who landed a long series of multi-hero stuns and shattering ultimates. Game two was more evenly matched, as it took Fnatic over 50 minutes of pushing back against the damage of QO's Mirana and MP's Sven before they could finally and successfully siege MVP's high ground. The latter go home with a respectable 5th/6th finish and $928,000 [!!!] in prize money.
Next up was the winner bracket final between Wings, whose unpredictable drafting and volatile play had already led them to a career highpoint, and EG, the reigning TI champions who'd weathered the open qualifiers, regional qualifiers and group stage to become, once again, the highest-placing Western team. In game one, Wings seemed to forgo their usual death-rush style, claiming just nine kills to EG's eleven by the time they starting doing serious damage to EG's middle barracks. Still, nine was all they needed, as a clutch Black Hole from Wings' iceice caught out three EG heroes to strike a blow the American side never recovered from.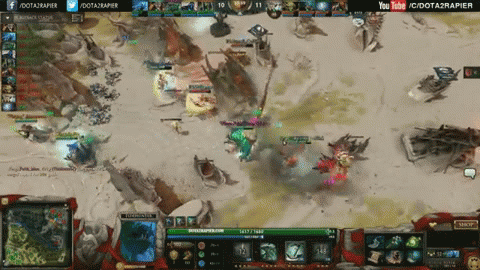 In game two EG... well, they got Huskar'd. We haven't actually seen a huge amount of this hero after he dominated the group stages so, but Wings managed to sneak him into their draft to powerful effect, especially since they also grabbed Shadow Demon to aid his survivability. That said, it was a fantastic Shadow Demon save on Faith_bian's Beastmaster that actually closed out the game; EG heavily committed to take him out early and neutralise the stun effect of his ultimate, Primal Roar, but a last-second defensive Disruption from Innocence's SD protected him. [I was literally punching the air and doing a little dance on the sofa at that point - Pip] Seconds later, a merely wounded Faith_bian roared Fear's carry Mirana, ensuring the kill and the crucial win to take them into the grand finals.
Let's zero in on that Disruption, shall we?
Other than Monkey King/Sun Wukong/Chimp with the Same Voice as McCree From Overwatch, there was one other name on everyone's lips after last night: Aliwi "w33" Omar. As Digital Chaos' midlaner, his explosive performance on Invoker sealed their 2-0 win over Fnatic (who'd been matched against DC in round 5 after beating MVP) in enchantingly flashy fashion. Just watch how his near-perfect spellcasting shines in favourable teamfights and helps salvage bad ones.
Him and the rest of DC now face EG in the lower bracket finals; the winners get a shot for the Aegis of Champions, the losers walk away with nothing but, errr, $2.1m in their pockets. Money aside, defeat at this late stage would surely be heartbreaking for either side; DC have come from being cast-offs from other teams to true threats on the worldwide stage, while the EG roster has unexpectedly survived being picked apart and put back together multiple times in the last few months alone.
Whatever the outcome of that match, the real challenge will follow soon after. The LB final (a best of three) starts at 6:30pm BST, and the grand final (a best-of-five) kicks off at 9:30pm. You can watch it all here. It's been an exceptional tournament filled with shocks, laughs and huge plays – for both fans and the eventual winners. The only regret must be that it has to end.
GL and, indeed, HF!