The International 2016: Definitely DO Call It A Comeback!
We can't even...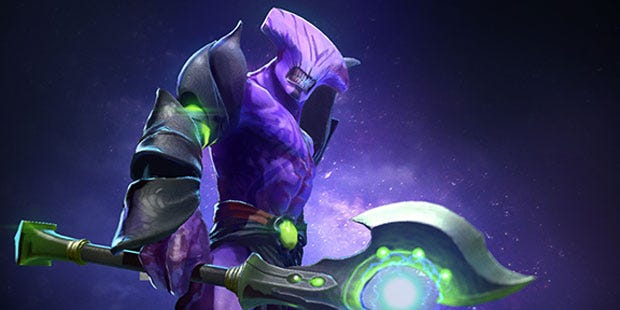 Much exciting Dota 2 [official site] occurred during the night, and now not only do we have our last eight teams left fighting at The International 2016, but we know two of the guaranteed top three finishers.
SPOILERS AND HEART-STOPPING COMEBACKS AHEAD!
Wings saw off a typically warlike MVP Phoenix, while TI5 champions Evil Geniuses got ever closer to defending their title with a victory over surprise Chinese powerhouse EHOME.
And by jove, what a victory it was. Game one of what ended up a 2-0 series for EG was the kind of brilliantly nerve-wracking showdown that seems by far most prevalent at TI. EHOME were already pushing into EG's base by 18 minutes, but a long series of amazing holds, close brawls and outstanding Chronospheres (hero-freezing time bubbles) dropped by EG's UNiVeRsE on Faceless Void meant that it was past the 70 minute mark before EHOME finally took all of EG's barracks, granting mega creeps.
But even then, it wasn't over – EG's huge magical damage output (aided by no fewer than three Dagon wands) allowed them to save their Ancient and ultimate wipe EHOME without buybacks, winning a practically unwinnable game. Incredible stuff all round, including the fact that this this was the first comeback against being mega creeps'd in TI history – it's worth watching the highlights in full [Agreed! I was actually in tears at the end of the game, it had been so exhilarating! - Pip].
Wings also put on a show, as expected, in their match against South Korea's MVP Phoenix. In both games – another 2-0, in Wings' favour – the terrifyingly efficient gank machine that is MVP gave themselves an early kill advantage, but it was ultimately Wings who proved to be the better mid-game brawlers. Even with their sharp teamwork, a few individual plays from the Chinese side managed to shine – check out iceice's stomp-stun on Dubu's charging Spirit Breaker, halting his escape, or the moment faith_bian goes 1v4 against MVP's heroes after a bad fight, kills two, and gets out alive.
Wings and EG will now meet in the upper bracket finals on Friday 12th, the winner going through to the grand finals on Saturday with the loser getting a second chance in the lower bracket finals.
This bracket is still packed with teams on the brink of eliminations. Two that teetered over that brink last night were Alliance and, in yet another upset, Newbee, who were knocked out by an on-form Fnatic and a renewed Team Liquid respectively.
Fnatic were in fact the first to pull out a big comeback in a day that was full of them. After taking game one without too much trouble, they were soon facing a hefty kill deficit against Alliance in game two – it took a desperate, drawn-out tower defence and teamfight for Fnatic to regain some footing, but once they did, they never really lost control again.
Alliance's 9th-12th place finish leaves Liquid as the only European squad in the top eight, though to get there, they did have to beat Newbee, a team that smart money would have put in the top three. Game one looked almost in the bag for Liquid, with the kill score at 17-2 after 29 minutes, but a series of calamitous deaths at Newbee's hands evened things up in terms of actual team strength. A stalemate ensued until nearly the hour mark, which Liquid carry MATUMBAMAN attempted to break with a risky Divine Rapier purchase. But a massive bloodbath in the Radiant-side jungle cost them the rapier, their buybacks, their barracks and the game.
Still, this was a best-of-three, and Liquid struck back with aplomb with a seventeen-minute stomp in game two. This was followed by a successful deployment of the classic free-farming Anti-Mage strategy in game three, MATUMBAMAN's mohakwed magic-hater simply getting too rich and too powerful for Newbee to handle. They'll now have to watch TI6 from the sidelines, the second elimination of a hot ticket team in two days following OG's unbelievable David/Goliath defeat by TNC.
As for today's matches, Digital Chaos will be first up against TNC in the lower bracket round three. DC have the experience advantage, with veterans MiSeRY and Resolut1on at the helm, but giantkillers TNC have already proved that they can take anybody – and they're on a roll in doing so.
Then, Fnatic and Liquid will meet for yet another elimination match. The former will be looking to break their streak of only achieving middling results in international (lower case) tournaments, while Liquid will be hungry to continue their impressive run through the lower bracket after a disastrous group stage.
The winners of DC vs TNC will then have to go through EHOME. Can one of these teams, both of which were thought likely to end at the bottom, manage to overcome fatigue as well as the Group B winners to secure top six? The answer is a resounding "I don't know because literally anything can happen in pro Dota and thus whenever I make a prediction in one of these articles they always turn out to be wrong".
That's it for the tournament proper, but there is one game at the very end of the night that you'll at least want to catch up on in the morning: the TI6 All-Star Match. Previous iterations have involved new hero reveals and surprise Pudge cosplayer identities, and while there's been no popular vote to decide the teams' lineups this year, there is a very good chance of something major going down amidst the pros clowning around for our amusement. A certain pit-dwelling lord, perhaps...?
In any case, day four of The International 2016 main event starts with the pre-show at 6pm BST, with DC versus TNC scheduled for 6:30pm. You can watch via the Dota 2 in-game client, or over on Twitch.