The Light Fantastic: Really Big Sky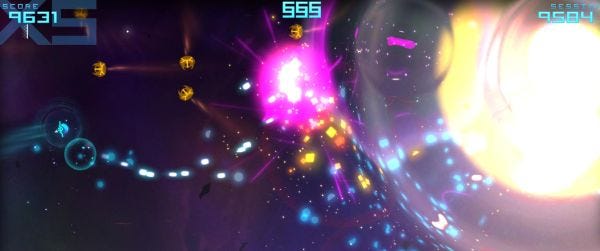 I'm very pleased that Really Big Sky is adding a big patch that adds game modes and more, because otherwise I'd never have heard of Really Big Sky. It's a classic side-scrolling shmup, that almost certainly qualifies for "bullet hell" status. It's exceptionally pretty, packed with different ways to play, and rather importantly, has controls that - to my cackhanded fists at least - feel more tangible than most. The new features include a really splendid-looking retro mode, of which there's a video below. And there's a demo.
By indie team Boss Baddie,
To get started, here is the original trailer for the game:
And because it makes more sense to do it this way, here's the game's feature list:
7 Juicy, full fat Game Modes
3 giant, dynamic Bosses and 15 enemies
4 Player Co-op with scalable difficulty
15 Powerups, Perk System, New Weapons and the Friendly Mothership
20 Achievements
Giant Lasers - Good and Bad!
Narration from a cheeky cockney AI
Full Tutorial and Xbox 360 controller (or compatible) support
Library and Secret Unlocks
Smash through solid planets and asteroids, cruise through gas giants
Comprehensive stat recording system
Faster, adaptive and addictive gameplay
Blackhole, Wormhole and loads more new Events
Hell Cascade Event
Then there's the new stuff being added, detailed in this retro trailer:
You can buy the game from Impulse and GamersGate, for just five of your pounds, or pounds equivalents.