Longer, Darker: The Long Dark's New Region And More
Even nicer deaths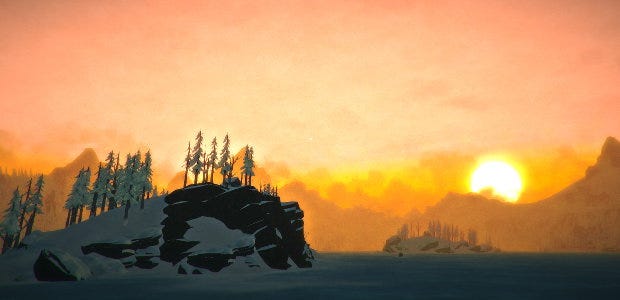 I played The Long Dark [official site] for eighteen minutes then uninstalled it and will not return. My character skirted the shores of a frozen lake, scavenged supplies from huts, dodged wolves on the frozen ice, admired the views, then settled down in a cabin on an island to, I assumed, get smashed then top themselves. It seemed a natural conclusion in such a wonked world, and that was me done with the game.
If you get a bit more into surviving though, hey! The latest update added a new region to the open-world survive 'em up with remnants of the old whaling industry, along with new crafting in forging, updated graphics and sound, and more.
Developers Hinterland Studio whipped together a video to show the main features that update v.264 brought last week:
They also explained with words. The new region, Desolation Point, is a coastal highway dotted with remains of the former whaling industry, making it more industrial than many of The Long Dark's natural areas. Appropriately, the update also added metal forging, letting folks craft rudimentary tools if they can find coal and ingredients.
What might tempt me back into The Long Dark for a second life, though, are the other new things. Its sound is now more complex and richer, with wind changing at different times, temperatures, environments, and altitudes. Hinterland say they've retextured "most of" the game's assets, and the lighting, skies and weather are nicer now too. Walking sounds also now reflect things you're carrying and wearing, making it more you. The game already was a nice world to be in, and now it sounds more so.
That's what'd get me back: I've no interest in surviving for survival's sake, but I like that The Long Dark tries to encourage moments of peace and reflection while being in a pleasant world for just a while longer, to see what's over the next ridge and what the next day may bring. It may be futile, with the world trashed, you the last human as far as you know, and wolves at your back, but at least it might be nice. That's what I'd want, to experience just a little more wonder before ending it on my terms. Again.
The Long Dark is still on Steam Early Access.