The Ludum Dare Haikus
Minimalism Maximized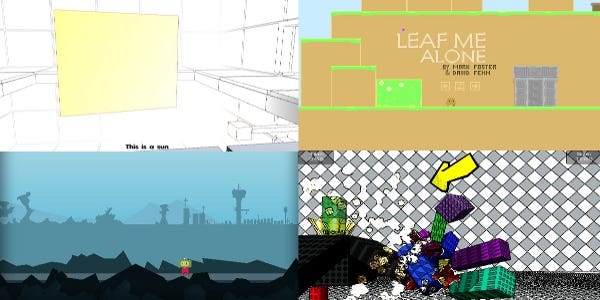 Minimalism
Ludum Dare 26 theme
Haikus: fitting, no?
One part Wind Waker
Stir in a whole lot of Fez
Oh, and potatoes
Advice-giving fish
In a world of nothing
YOLO, basically

Abraham Lincoln
Type jump to jump, slide to slide
Bad timing is death

Musical machines
Solve puzzles by building songs
Too adorable

Hey, cubes do not roll!
Unless they're katamaris
Who turned off physics?

You are the wind, see?
Wind wind wind windy wind wind
Sow seeds; you are strong

Minimalist cult
OH GOD GARBAGE EVERYWHERE
Good thing you're psychic

People all around
Side-by-side, worlds divided
Turn up your volume

White walls, find nature
Antichamber, is that you?
[Suspicious glancing]

Haikus aren't needed
When fewer words will suffice
Proteus for birds

The circle of life
Sure does kill lots of people
George Broussard made this

Metroidvania
Light and dark and nothingness
Save us, colorball!

Ask out a real girl
Nod or die (of awkwardness)
Next level? Headbanging

Minimalism?
Fuck that, death rays (and challenge)
BLOW UP LUDUM DARE

Twine: now online
Comprehend ecosystem
What's a lamia?

Looks like kiddie scribbles
Looks are often deceiving
I'm gonna be sick

Ack, you broke the world!
Fix it fix it fix it [breathes]
Fix it fix it fix