The Metrics: Old Republic's Imperial Agent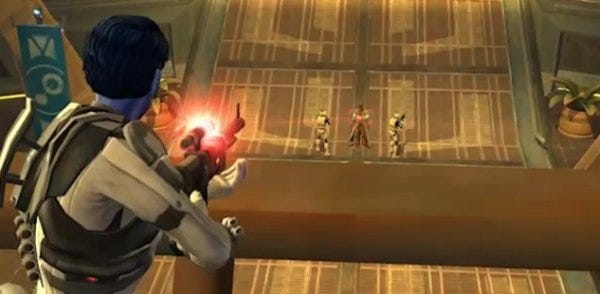 Good morning! Below you see the trailer for The Old Republic's Imperial Agent class. He's a sneaky blue man, as you might expect, and should - via the magic of sniper rifles and backstabs - allow us to get our imperial evil on in roguish fashion. On what is basically an unrelated note, I can't help feeling that The Old Republic was announced too early. Here I am posting the nth trailer, and the game is still ten thousand years away from release. Is the long trickle of information actually a good idea? Couldn't games get away with that blaze of publicity thing like the movies? Perhaps this is a sub-curse of the internet: we asked for an endless supply of video game trailers, and by God we got them...
Nevermind, at least we have actual exciting news about The Old Republic coming up soon.