The Misadventures And Mirth Of Project Zomboid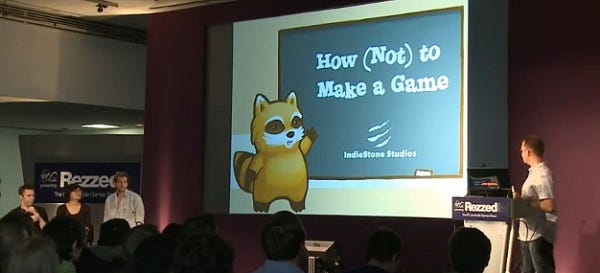 The Project Zomboid session at Rezzed was right at the beginning of the first day and yet it still managed to be extremely busy. Despite the (approximately) seven million people in attendance, if there's even the slightest chance that one person reading this didn't see the people of The Indie Stone talking about 'How (not) to make a game', I suggest you do so now. With Will Porter guiding the journey from the safety of a podium, the team talk about the origins of the game, copying Notch, living on beans and bread, and a series of extremely unfortunate events. There's plenty of humour but also memories of robbery, death and the internet being a bastard. Then, for good measure, a trailer for the next version of the game.
Fun fact: I was childishly amused by hearing a PA voice in a proper serious conference hall saying "Zomboid" with a confused inflection.