The New CD Projekt RPGs? Let's Wildly Speculate!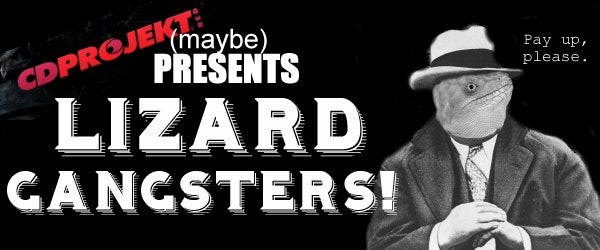 Ah, good old internet. Always vigilant to other people's business. This time it has spotted that CD Projekt - those Polish clever-clogs who made The Witcher and its sequel - are now hiring for two RPG projects. One is "RPG In A Dark Fantasy World", which will clearly be the next part of The Witcher, but other is - shock! - "RPG In A Brand New Setting". There's even a little gun symbol next to the name to get us speculating that it isn't going to be another fantasy world, but in fact one with guns in. And not rayguns, but normal automatic pistols. The Projektors say that it is "a vast RPG for which we want to assemble the best possible staff. It represents an opportunity for you to create a grand new project from the ground up!"
Crikey! I'm hoping it will be a Noir RPG in which the gangsters are secretly supernatural lizard-men. Failing that, I'd quite like an RPG set aboard a haunted runaway train. Anyone else want to make impossible requests? Speak now!