The Newest Shiny-Shines Of CryENGINE 3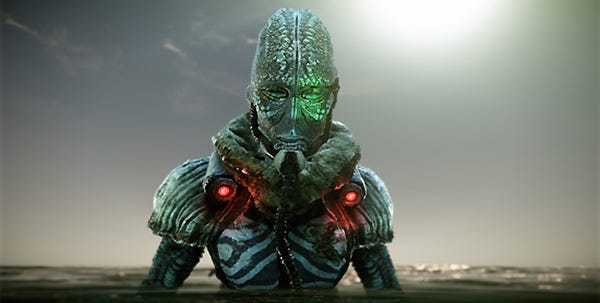 Yesterday brought official word that a profitable videogame would see a follow-up. Surprise! But while we got to ogle a few Crysis 3 screenshots, we didn't get to see it in motion. We still don't, because life is harsh and cruel and that's a lesson that we all need to learn at some point. Now go to bed without having any dinner. Once you wake up tomorrow, starving and miserable, we might just let you watch this footage of the latest update to CryENGINE 3, which might just offer some visual hints about what to expect from Thrysis. Included - more ear-shaped ears, diving fish-guys, a man with multi-coloured stubble, the kind of fantasy castles that we all wish Skyrim had, a lovely waterfall, a man taking out his existential rage on a window and a shed.


Watch on YouTube
This all comes as part of a free DirectX 11 update to the CryENGINE 3 SDK, the whole lot of which can be had for no-pennies up front for developers who agree to a revenue share on any resulting game. These are the major additions, but if you're of a mind to you should read the full update notes here.
Revamped DirectX 11 Tessellation
DX11 support and tessellation has come a long way since Crysis 2. Phong, PN triangles and displacement maps, along with no need for pre-tessellated assets, makes CryENGINE's DX11 support among the best in the industry.

Multi-layer Navigation Mesh
The multi-layer navigation is a powerful new and easy-to-use navigation system that AI agents utilize to path-find through game maps.

Improved Skin Rendering and Eye Shader
New scattering approach gives more realistic rendering with fewer artifacts. New settings, checkboxes and sliders for things like oiliness, iris control, colors, pupil dilatation, tessellation and parallax support make CryENGINE character rendering more advanced and customizable than ever before.

Advanced/Improved/Extended Glass Shader
The glass shader is a specialized tool for rendering glass-based surfaces. It can represent a wide range of glass types, including regular windows, stained glass, leaded glass, beveled glass, some crystal types and some types of transparent plastics as well. The improved glass shader now also boasts features such as a dirt layer designed to produce extremely realistic-looking glass surfaces complete with dust and dirt, differential fog and refraction blur.
Great! Probably. Does that make it better than the Unreal engine's latest derivation? Don't ask me, I just work here.