Wot No Blue Milk? SWTOR's Tatooine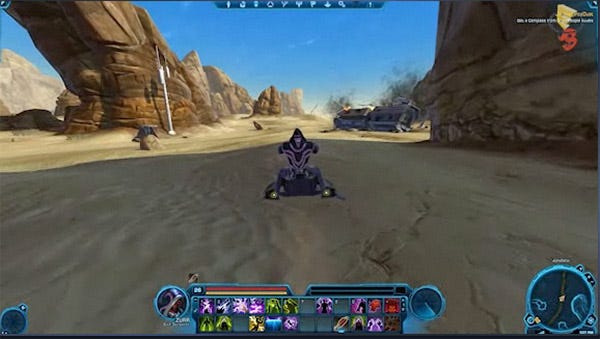 The Star Wars: The Old Republic intro movie may have been so monumental that we entirely deliberately and definitely, definitely not accidentally posted it twice, but it sure did get a few backs up. All very pretty and very Original Trilogy, yes, but what on Earth has all that pre-rendered willy-waving got to do with playing an MMO? Fortunately, Bioware are now letting us a little closer to their multi-million-dollar baby, with a guided walkthrough of whiny Luke's adopted homeland - the desert planet known as Tatooine.

This being many moons before A New Hope, sadly there's no quest to reclaim a Rancor tooth necklace from the charred bones of Aunt Beru, but instead a focus on the Sith exploring the planet's caves, canyons and lost temples in search of some manner of doohickey. Quest ahoy!
Wow, that sure does look quite a bit like [redacted] with sci-fi stuff. Good thing or bad thing? Little of column A, little of column B, I'd say. John says more, in his two-part mega-preview the other week.