The Quatermain Man: Deadfall Adventures
Tomb trasher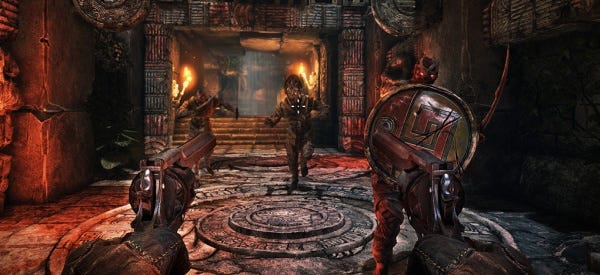 Would you like to see a cinematic trailer for Deadfall Adventures? The voiceover spouts a lot of vaguely mystical gubbins about the end of all things, from men to mountains, but then decides against that philosophy by adding that everything is actually just asleep. That's as good an excuse as I've ever heard for the introduction of a reanimated, fire-eyed mummy and that's precisely the sort of blighter that James Quatermain will be up against as he raids tombs and punches mythology in the face. The trailer may not tell us much but it did serve to remind me that the game exists, following a delay earlier this year. And there's a speedy time lapse of a withering corpse!
Let me get this straight - life is the hand with which we hold off death. Isn't that a bit like saying 'being alive means we are not dead'?
And then, 'nothing endures' but 'all things live forever'. This is some high level thinking.
Deadfall Adventures will finally be released on November 15th. The actual game looks like the screenshot at the top of the post, all first-person and shooty, but with traps and tombs instead of a war.