The remarkable community around a 27-year-old MS-DOS racing game
Some games last a lifetime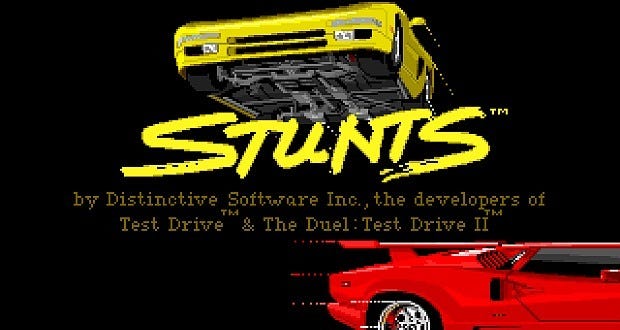 What does it take to keep a game alive for 27 years?
Stunts, released by Distinctive Software in 1990, is a brutally unforgiving racing game. In glorious 640x480 resolution, it boasts 3D graphics in bold primary colours, a physics engine (that will regularly destroy your car), and a track editor. Prior to the fall of the Soviet Union, it was pretty cutting edge. But what is most noteworthy about it is that it still has an active playerbase. I spoke to members of the Stunts community to find out why they're still playing.
Péter Ács, a.k.a. Zak McKracken, is the founder of ZakStunts, the forum and tournament series at the heart of Stunts' survival. He has been playing the game since 1994. "Stunts introduced a new level of freedom that was unconventional back in that age," he told me. "It does not put you in a linear story or on a circular track you have to repeat all-over. You can go anywhere and if you get bored with a track, you can redesign it or design your own. Replays allowed you to compete with friends and show off your skills - so it was and is a true multiplayer sandbox game, very similar to Minecraft."
Replays are what allow the tournaments to take place – rather than running conventional multiplayer races, which would be beyond the powers of its aged technology, Stunts allows players to record replays of their solo performances, which they can then upload to the forum at their convenience. This ingenious system made tournaments much easier to organise, but also had some unexpected consequences. "Replay handling arises from the replay system of Stunts," says veteran player Daniel Mlot, "which can be used to rewind a lap and continue from any point. The game tells us we are not supposed to get a high score from laps continued in this way, but the mechanism that enforces it is very easy to circumvent within the game, with no external tools or outright hacks... Replay handling changes the character of the game. It becomes equal parts racing and puzzle: discovering improbable racing lines and figuring out ways to pull them off is as important as driving fast."
Ács' innovative tournament format likely contributed to the tenacity of the ZakStunts community. "I started using the internet in 1998 and got immersed in the abandonware community," he says. "Almost all regular racers started their own competitions back then, so I took my chances too. The concept was to play with all the cars, as most competitions were focusing only on the fastest car - the Indy."
'Dreadnaut', an Edinburgh-based software developer who maintains the website, described the subtleties of the system. "Slow or unused cars get bonuses; leading the scoreboard for a few days can bring additional points; replays are downloadable at the beginning of the race, then only the results are visible, and hidden for the last 48 hours. These rules create a strategic meta-game that runs over weeks and months, across the whole season. Should I send my strong replay now and disclose my tricks and short-cuts, or should I wait a few days more but forfeit the leading points?"
Though the community maintains a fairly stable number of players, the real heyday, according to Mlot, was 2002-2006. "It was an era of very fierce rivalries between racers and teams," he says, "rivalries that were played out across various competitions with diverging rule sets. Large parts of the modern metagame were consolidated during that period. Compared to those years, the community these days is a somewhat quieter and calmer place." Ács backed him up: "The best part in my opinion was 2004-2006, when each year we had a World Stunts Meeting, twice in Hungary, once in Denmark, where the core of the community came together, played live races, and had a lot of fun and parties through a long weekend."
For one player in Argentina, though, Stunts took on a much more personal significance.
Sergio Baronetti came across ZakStunts in 2004, and immediately introduced his 70-year-old father, Anelio, to the game. Already a fan of more contemporary titles such as Viper Racing and Colin McRae Rally, Anelio took to it with gusto. Under the name AbuRaf70, he competed in almost every ZakStunts tournament for the next twelve years, achieving eleven podiums and taking part in the formation of the 'MeganiuM Aces High' racing team. He used Google Translate to communicate with non-Spanish speaking players. "Over the years," Sergio told me, "friendships were formed in the game – Paleke [a fellow ZakStunts competitor] came to visit my father's house and mine."
Despite his declining health, Anelio's enthusiasm for the game was unswerving. "Having already been hospitalized," Sergio says, "what he most asked was when the ZCT186 race started, as it was taking a while... I adapted a NetBook computer so he could race from a wheelchair. With great effort he came out of his bed and sat in the wheelchair, and with the NetBook in his lap could barely get past the first corner of the ZCT186 and could not continue to race because of his health – but was very happy to be able to see the track, and to run even that smallest part."
Anelio died in January of this year. "He will be dearly missed," said Mlot. "AbuRaf was one of our most loved friends and an icon of the community," said Cas, architect of the Stunts community's favoured track-editing tool, Bliss. "It is a great pleasure for me to remember my father in this game," said Sergio. "Stunts has meant a lot, an awful lot, in his last years of life... When I was very young, my dad always told me that he would have liked to sit in a Formula 1 car and drive it. As you might expect, that was impossible – but thanks to computer games, he could simulate it."
The ZakStunts homepage displays the track being raced in each month's tournament. If you go there now, you can see the current track: 'AbuRaf's Boulevard'.