The RPS Steam Curators Page Has Had a Big Fat Update
Our bestest best games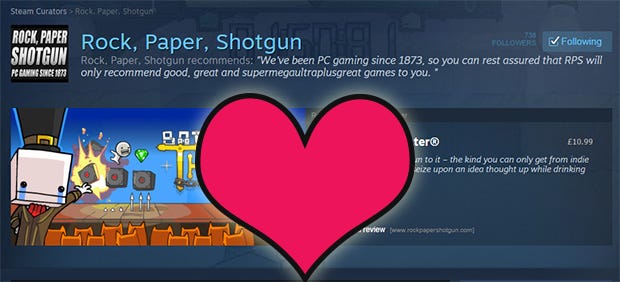 Hello, you like hearing and/or disputing game recommendations, don't you? In which case you might want to give the RPS Steam Curator page a follow. Admittedly we didn't do too much with it in the tail-end of 2014 as we were so busy sorting out game of the year stuff and repeatedly contracting head colds, but as of today it's had a huge update. The games we've most liked over the last few months, and our absolutely favourites from 2014, are all on there (at least those that are on Steam are), and we'll continue to add anything we feel particularly warm and fuzzy about.

Over the next few days, we'll also be adding everything we can from our ongoing Have You Played? series. Over time, this be an increasingly comprehensive archive of our PC game recommendations, both contemporary and olde worlde.
We won't recommend just anything, though. For a game to be recommended on our Steam Curator page, at least one RPS writer has to have genuinely loved it. These are honest and personal recommendations from RPS contributors - you may well disagree with some of them (amazingly, human beings can have different opinions), but rest easy that they're all there for the right reasons.
Follow the page here and you'll also get to see our recommendations when you're scouring Steam for inspiration as to what to play next. Bear in mind, it's an ongoing list that's nothing like 'completed' yet, if indeed it ever can be. Please do suggest games we could or should add to it, but don't be that FOR SHAME RPS WHY NO FRUGAL MURDER-DWARF XII guy, eh?