The RPS Supporter Program Is Go!
Blimey: Stuff!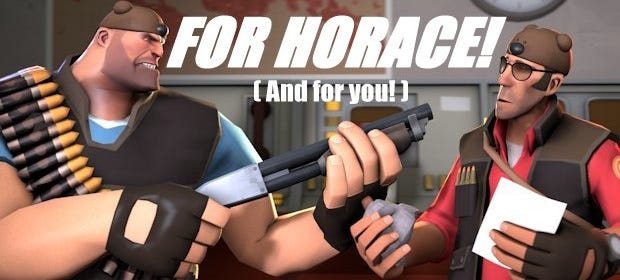 Hello there! This is about the most exciting thing we've announced since we've launched the site, and we've been working on it all summer*: the RPS Supporter Program is now live! It's a new premium arm of the site designed for those people who love the site best to get even more out of it.
You can now (NOW!) purchase Supporter status and get additional content in your RPS. Apply the code, log in to the site, and you'll have fresh words from our writers each day, as well as exciting free gifts arriving in your inbox. For years, thousands of you have been supporting our work via a PayPal link, but now we've decided to mobilise our army and do much more. Existing PayPal subs should check their email (and probably their spam filter) for our little gift**.
Firstly: this new project does not in any way affect the current content of the site. Everything you're currently seeing will stay as it is, with news, reviews, previews and silliness remaining our daily bread. We have a goal in mind for the Supporter Program, however, and it's this: to create some games writing that is funded by and guided by our readers. The bulk of the Supporter Program will arrive as daily articles that supporters will see folded into their feed, and we're going to ask you what we should be writing about, then use our supporter funds to make that happen. As you can imagine, we're pretty excited about that.
To sweeten the deal, we're also going to be dropping free gifts into the inboxes of active accounts over the coming months. Currently there's a gorgeous Horace hat for TF2, and some money off a selection of GoG.com games in there, and there's more to come. We'll let you know when we update with new gifts.
The Supporter Program should definitely be regarded as an ongoing work-in-progress project. We want to keep developing it over the coming years, fulfilling the potential of this unique and powerful idea within games journalism. This offers us a special opportunity to do something different, as well as supporting RPS's overall project of being the most interesting games writing site in the known universe.
You can get a 6-month voucher here:
Or a 12-month discounted voucher here:
Once you have the RPS key, you can redeem it at the bottom of your RPS profile page, at the bit that looks like this:
Logged in supporters can check out your Supporter content over at the Supporter tag.
And thank you, everyone. It's been an awesome seven years, so let's do even more cool things in the seven to come. Viva PC Games, etc. <3
*That doesn't mean there won't be a few bugs in the system - we're fixing stuff right now - so definitely send Jim an email if you spot any!
** Email Jim for any support with this.