The Signal From Tölva making free snowy expansion
Wrap up warm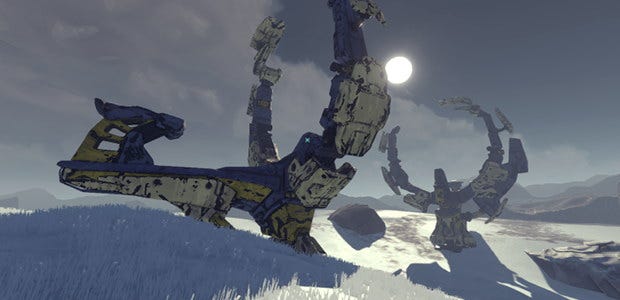 Today may be the unofficial first day of the British summer but Big Robot are dreaming of winter. They've announced a free expansion for The Signal From Tove Lo [official site] that will bring snow to their sci-fi open-world shooter. The new scenario is due later this year with new secrets and robos. Before all that, a small patch has arrived.
Big Robot described the expansion in today's announcement:
"It contains a new campaign scenario on the surface of Tölva, and will provide a few more hours of combat and exploration. It'll have some unique secrets and new robo-life. After that we'll look at whether people want another substantial campaign update and how best to deliver that.

"We'll talk a lot more about this in the future, but basically it gets snowy!"
They might not have much to say now but artist Olly Skillman-Wilson has shown how they make snow with magic:
Our Alec has declared The Signal From Tove Lo to be "exactly the sort of thing that qualifies as a Dad Game for me. I.e. one that's going to sit on my hard drive for forever, offering me total confidence that I can have a solid good time in a spare hour." A hot dadding tip for you there.
As for today's update, it's already live on Steam now and should be elsewhere soon. It adds a module letting players call in support combat drones, and a new secret area with lots of loot - "There's a knack to getting it all, though," Big Robot say. It also adds WASD support to the tourist mode camera and fixes a bug that made difficulty settings go ignored.
Disclosure: RPS co-founder Jim Rossignol is the big man at Tove Lo developers Big Robot. He's nowt to do with us any more, mind, not since Gamer Network bought us. Now when Jim breaks into the treehouse and screams at us to write about his games, his fists pounding our desks and his spittle flecking our monitors, I can call security rather than getting him in a full nelson myself. I can see the doorman is delivering a DDT right now. Ta ta, Jimothy!
NB: Sorry about the whole 'Jimothy' thing, Jim - Alec Mere insisted I call you it because "he really hates that".