The Sims 5 devs "definitely" want to have multiplayer, are looking at Animal Crossing for inspiration
Project Rene could even have an Among Us-like mystery mode, suggests series VP Lyndsay Pearson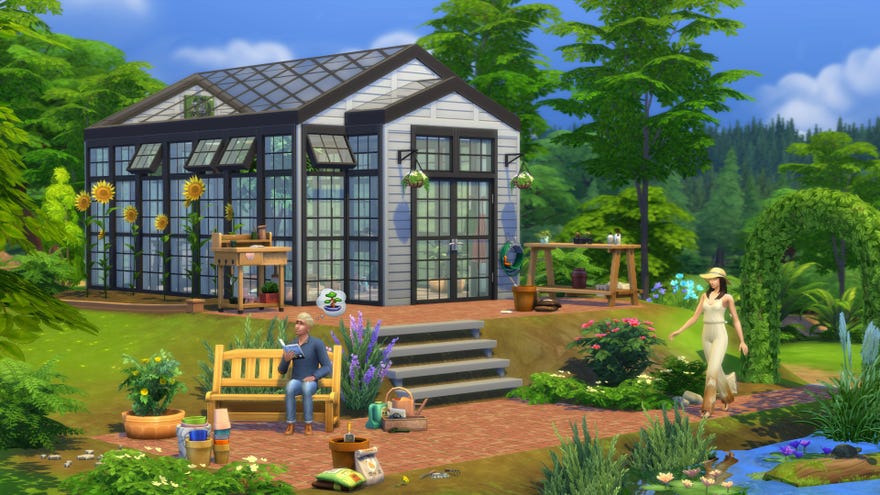 The next Sims game - currently codenamed Project Rene, even though we all know it'll almost definitely be called The Sims 5 - will "definitely" have a multiplayer element of some kind, according to its devs. As guidance on what that could be, its team are unsurprisingly looking at the success of fellow cozy life-sim game Animal Crossing, as well as a perhaps less obvious inspiration in murder-mystery argument-starter Among Us.
This all comes from Sims franchise creative VP Lyndsay Pearson, who told the Radio Times' One More Life podcast that the game's devs "definitely want to introduce multiplayer".
That multiplayer won't be a sprawling MMO-style world full of randomers, Pearson clarified, but a way to join up with a smaller group of friends and co-exist in your virtual worlds while doing a variety of different activities.
"Not multiplayer in the big, scary 'jump in a world full of strangers' kind of way," Pearson said of the multiplayer mode. "[But] literally: how do you and your friends want to do some play together? And there's a lot of different flavours that could take, so we're exploring a lot of different spaces there. Because playing together can look like so many different things."
While those different flavours are unlikely to suddenly see The Sims 5 become a battle royale or shooter, Pearson indicated that the team were looking at some more out-there ideas that they could then make "Sims-y". Among the ideas suggested were trivia games, fighting games, racing games and even an Among Us-like mystery mode that players would need to work together and talk as a group to solve.
"We're having a lot of fun exploring all those different opportunities, particularly within the context of The Sims, because it is still about these little characters, their little lives and you helping guide them. So what does that mean if you and I do that together?" Pearson said of the way that multiplayer was being tackled. "How do we figure out how to make a little bit of that chaos, a little bit of that fun and a little bit of that positivity come together in a way that feels 'Sims-y?'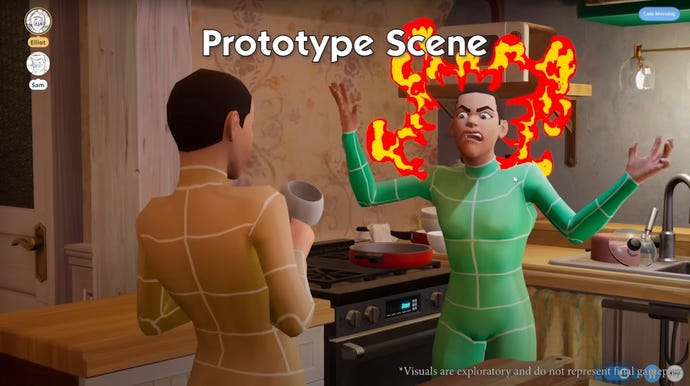 Pearson pointed at the success of Animal Crossing as a guiding light for The Sims 5's multiplayer, both in its smaller shared spaces between players and the way that its customisable world was simply used as an environment - notably the likes of talk show Animal Talking, hosted by movie screenwriter and former PC games journalist Gary Whitta in a virtual set built in Switch game Animal Crossing: New Horizons.
"We talk about Animal Crossing all the time, because it is such a good example of my little space, my little island, but I can invite you over," Pearson said. "We've seen throughout the last few years of Animal Crossing people inventing ways to play together that the game doesn't specifically support, but they've made up scavenger hunts or whatever. Which is amazing. Or people who hosted talk shows in Animal Crossing, I think is incredible."
EA Maxis previously confirmed that Project Rene will be free-to-play (with paid DLC - it's still a Sims game, after all) and "co-exist" with other Sims games, including recently predecessor The Sims 4 which itself went free-to-play last year. There's also some new tech behind the scenes, including fancier lighting, more advanced simulation of the wider world and more visual cues for Sims' moods, such as flames erupting from the head of angry Sims - get ready to use that one a bunch while getting shivved in the back in its Among Us mode.