The Sunday Papers
Read more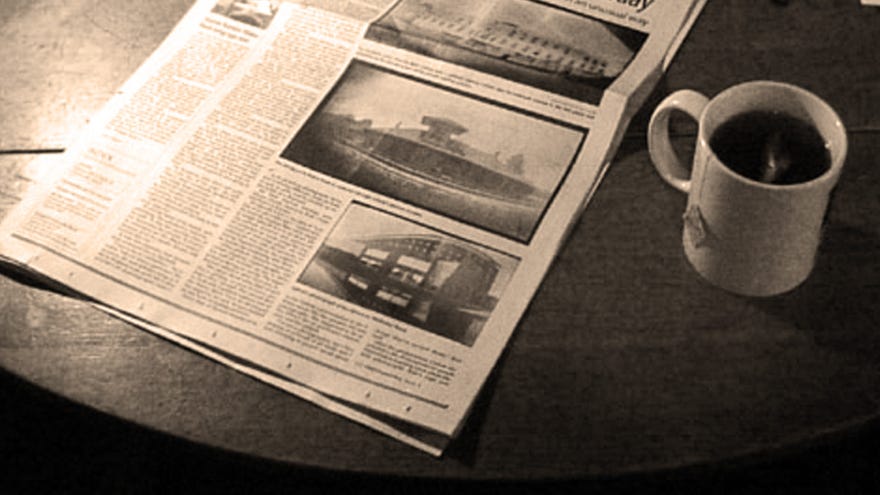 Sundays are for dog walks. Last time we were out we saw someone with their dog on a lead and their cat loping after them, so I'm looking forward to what wonders we'll be treated to this time. You'll just have to make do with high-quality writing about video games from the past week.
I imagine you've seen Rockstar co-founder Dan Houser bragging about the 100 hour working weeks his team put in for Red Dead Redemption 2. I imagine you've also seen the universal rebuking he's received for endorsing crunch culture, but Patrick Klepek's recent piece for Waypoint focuses on the easy ride Vulture game him in the original interview. Given how widespread the negative reaction was, there's hope other journos will take Klepek's points on board. I know I have.
What's the human cost of modeling the way horse testicles react to weather? Is it worth it? How do the Housers approach scaling labor, as their hyper-detailed worlds demand more? This has probably changed over the years, so what lessons have they learned? Rockstar felt obligated to publicly respond to the infamous "Rockstar Spouse" letter alleging broken working conditions during the development of the original Red Dead Redemption, so what's changed?
I know the papers often become the Waypoint show, but you can blame that on them for writing so many thought-provoking articles. In his latest Postscript column, Cameron Kunzelman argued that PVP nuking in Fallout 76 gamifies horror that should be left alone. I wouldn't condemn those mechanics to the same degree, but now I'm struggling to justify why.
No matter who you are, no matter how powerful you think you are, the reality is that nuclear war will either destroy you or make your life unlivable in its current shape. This reality is fundamentally at odds with how the design of blockbuster video games work. That means that taking nuclear weapons seriously in a blockbuster game is impossible.
I don't have much interest in playing sex video games, but I'm very glad Kate Gray writes about them. Here's her review of Strange Flesh for Kotaku.
Punch or seduce enough people into exploding and you'll gather power-ups. One increases your punch power, another increases your smoky seduction power, and the final one is basically your special attack meter — only the bartender's "special attack" mostly involves putting his loaf of bread in the breadbox, if you catch my meaning.

It's like playing Streets of Rage, except instead of rage, it's a big old peen party, and you're the lucky birthday boy.
On Polygon, Mark Brown called out the needless gratuity of Tomb Raider's grotesque death animations - most effectively by highlighting alternative ways games can make death feel impactful.
Player death is certainly a weird thing for designers to reconcile. In most games, it's a bizarre break of the fourth wall: a reminder that the actual turn of events will see Lara Croft narrowly avoid death at every turn, and that your screw-ups are just a non-canonical, "what-could-have-happened" dream sequence of sorts.
This is from last month and games don't get a look in, but I have to show you Taylor Clark's deep dive into Meow Wolf's magic kingdom. I'm gonna get me to that house, one day.
Inside House of Eternal Return, hidden bookcase doors lead to rainbow-lit simulations of non-Euclidean space-time. Flora musically luminesce at your touch. Next door to the interdimensional travel agency, on the way to the mastodon cavern, a long, tubular owl slowly blinks down at passers-by from its glacier-blue roost. "The first time I walked through, I thought, My god, this is what it looks like when you dream — come to life! " said Winston Fisher, a Meow Wolf investor who now sits on the company's board of directors.
I found Hannah Fry's essay for Aeon about AI's capacity to generate art fascinating. I'd argue that if an AI can generate art that's indistinguishable from human endeavour, then it doesn't make sense to not call the results art just because you find the process lacking. Oh no I'm talking about what art is ABORT ABORT
If you're looking for a background track for your website or your YouTube video that sounds generically like a folk song, you don't care that it's similar to all the best folk songs of the past. Really, you just want something that avoids copyright infringement without the hassle of having to compose it yourself. And if that's what you're after, there are a number of companies that can help. British startups Jukedeck and AI Music are already offering this kind of service, using algorithms that are capable of creating music. Some of that music will be useful. Some of it will be (sort of) original. Some of it will be beautiful, even. The algorithms are undoubtedly great imitators, just not very good innovators.
Mark Brown (him again) continues to produce impressively extensive guidance for how games can be made more accessible for disabled players. His latest video focuses on motor disabilities.
These screaming Pokemon are fun.
Music this week is Long Way Down by the Steeldrivers. A lot of the bands I like seem to make music videos where they go play in some woods.