The Surge is getting some creepy theme park DLC
Park life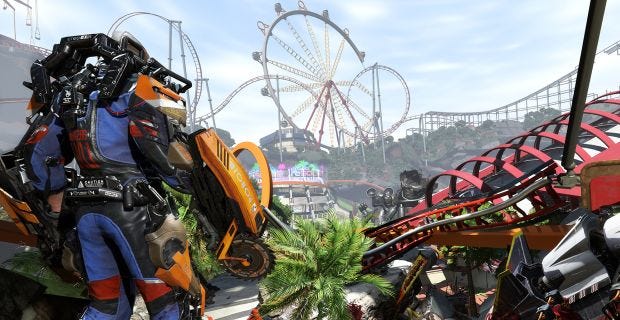 Sci-fi robojaunt The Surge was a bit of a shonky soulslike but it got a couple of things perfect: a liberal sprinkling of clever shortcuts and a dogged refusal to add fast travel. Less impressive were the environments themselves. Factories and junkyards and labs that felt too plain for the daft zombie mechsuit world they were housed within. Well, it's getting a much more colourful new area in some upcoming DLC – a creepy theme park filled with enraged robotic mascots and, I'm guessing, some disgruntled rollercoasters.
The expansion is called A Walk In The Park (good work) and is out "early December", say developers Deck 13. It's going to be "more open" than the twisting metal corridors of the main game's CREO complex, they say.
"Originally built to celebrate CREO and its mission, the park is a radically different setting from the rest of the complex, full of branching paths and secrets to discover.

Survive the raging mascots and explore the park's attractions, before taking on a fearsome boss in the devastated park. Through technical and spectacular fights, you will face this new threat, cutting and equipping 16 all-new weapons, sets of armor, and implants to upgrade and further customize the way you want to play."
I'd forgotten that I wrote our The Surge review, which might tell you how I really feel about this Souls wannabe. But I did finally remember being surprised at how much I enjoyed finding my way around its hanging walkways and maze-like ventilation shafts, even if the game often made you fight robo-zombies inside their narrow confines, getting awkwardly close to the camera. A spooky, malfunctioning theme park isn't exactly an original premise but at least it brings a bit of colour to this rusty world.