Exhuming The Past: The Town Of Light
Opening the asylum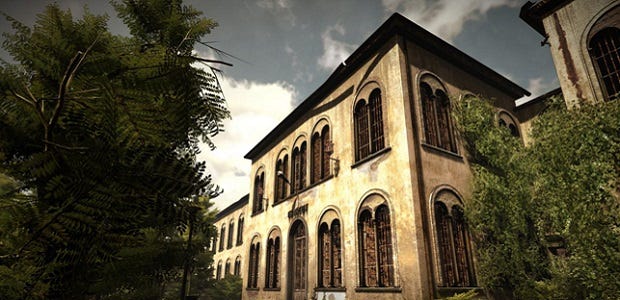 The Town of Light [official site] is a fascinating game. Initial trailers suggested it would be another in a long line of horror stories playing on the abandoned asylum setting. I expected jump scares, deformed creatures forced into straitjackets and maniacal laughter. Instead, as Alec discovered when he spoke to the developers earlier this year, this is a game concerned with "the true meaning of mental illness".
As revealed today, the game will be released on February 23rd and I've spent a few hours exploring an early build.
I've thoroughly enjoyed playing The Town of Light. Given the subject matter, I wondered whether 'enjoyed' was the right word. It is. Above all else, it's a beautifully crafted game, playing out like a point and click game in first-person rather than the creepy walking simulator I expected. While I haven't seen a great deal of actual puzzle solving just yet, the institution itself is a kind of puzzle, a place to unpick as you explore its rooms and corridors.
There are overt horror elements of the sort I thought might have been pushed to one side by the story's serious concerns, but they're tasteful. Again, I'm not sure that 'tasteful' is precisely the word I'm looking for but what I mean to say is that the game doesn't feel exploitative. It is exploring a real place and a real history of institutional abuse, and introducing hallucinatory segments in which reality warps does seem fantastical rather than the honest depiction of illness that may be intended, but it's the kind of fantastical that's found in Pan's Labyrinth rather than in Outlast.
I don't want to spoil the plot and I can't because most of the text is still waiting translation from Italian, so I'll tell my own story here. It's not a story about institutions but it is a story about forgotten places, and it ties directly into what I think is important about The Town of Light.
My terror of guard dogs and cobwebs has prevented me from trying urban exploration – the act of sneaking or breaking into abandoned places – but I'm fascinated by buildings that have been left unused and uninhabited. One of the UK's first American-style multiplex cinemas, with a huge foyer served by a circular, central altar of snacks, opened just outside the town I grew up in back in the nineties.
The cinema – then a Warner Bros., later a Vue – was part of an out-of-town retail and leisure park. Scattered across the same concrete strip, parked cars as far as the eye could see, there were chain restaurants, and a combination arcade and bowling facility. There were always bowling lanes in those places in between towns, but never in the towns themselves, as if the only way to make teenagers hurl heavy balls down a lane in the name of amusement were to strand them far from other distractions.
Until last year, I hadn't thought about it for a long time but that cinema was one of the places – along with Manchester's dearly departed Cornerhouse – where I nurtured my love of film. Sure, I mainly watched whatever had a bit of gore in and happened to be showing that day rather than making careful selections and exposing myself to greatness, but that's part of the learning experience. You don't appreciate the really good stuff unless you've seen The Relic, The Faculty and Event Horizon a combined total of eleven times in a cinema.
That multiplex, as you might have guessed, closed down. I didn't know that until I was touring a few spots from my youth on Google Street View. Weird how there's no way of knowing that it's empty for sure because the Google car doesn't approach, across the vast empty car park. It could just be a quiet day or an early morning. Squint at the images, however, and the cracks in the glass become apparent, as does the vegetation attempting to reclaim the soil beneath the structure. It's a dead building.
Right away, I wanted to see what the innards looked like. Urban exploration as a form of autopsy and perhaps also a funeral. It might sound ridiculous to say that I'd have felt some catharsis seeing how much remained and how much had changed, but it's the truth. There's so often a sensation that places from the past have ceased to be and once the doors have closed and they lose their functionality, I find it hard to remember them at all.
All of which is to say that The Town of Light is precisely My Kind Of Game. Alec has already written about the real world influences that lie behind the game, but having played a recent build, I want to write about something else entirely. Familiarity.
Walking through the early stages of The Town of Light doesn't feel like stepping into a horror game. It feels like an act of personal archaeology. The notes and reports that you find scattered about the institution that you're exploring aren't repetitive "All work and no play" scribbles or red with twisted nursery rhymes written from the vein; they're far more disturbing. Bureaucratic. Clinical. Believable.
And the same is true of the building. I was drawn to The Town of Light as soon as I realised it was a game about exploring an abandoned place – an abandoned place full of memories and meaning for the player character, no less – rather than a game about running away from comic book lunatics. I was still concerned, however, that the place would be so idiosyncratic, based as it is on an actual location, as to be unfamiliar. If it were an incredible place, in the strictest sense of the term, it risked feeling as fantastic as anything imagined.
That's not the case. Anyone who has visited or spent time in a healthcare institution of any kind will recognise details of the environment, and anyone who has felt a sense of isolation in a place that should be reassuring will be right at home. The institution is a series of scenes depicting lavishly constructed dereliction, and while I haven't played enough to understand how well the story will fit within those walls, A Town Without Light stars a place with few peers in its genre.
The question as to what that genre is will rattle around until people have played and understood the game. Based on my experience, I'm fairly certain it isn't a horror game, although it absolutely does contain horrific moments. It's a mystery, I think, a very personal mystery that relates to wider concerns about the treatment of people suffering from mental illness, and anyone else shut away from the world and mistreated by figures of authority. That immediately helps it to stand apart from those games that use asylum settings as an excuse for gore and murderous maniacs.
It's the familiarity of the setting that will stick with me though. I'm looking forward to seeing more of this place, regardless of the specific story within it, because it feels like the walls have mouths as well ears, and lots of tales to tell.
Post-script: I didn't find my own way into the cinema but other people have documented its demise.