The unnaturally muscular Hercules of Gods returns next week
Ye Gods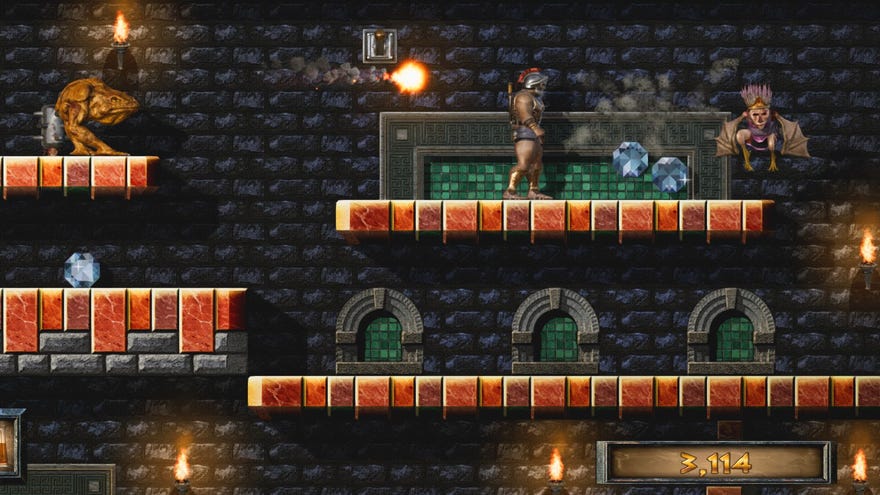 Remember the pony-tailed platforming of Gods? Some of us in the RPS treehouse do. Alec says this action jumparound was a tough, gritty game of precision, and maaaaybe the "Dark Souls of its time". I remember it more as a slow, Greek alternative to Prince of Persia. It required the same caution and was just as confusing in its unknowable geography (ie. it had ladders). A difficult game. There were horrible flying goblins, and when you threw a knife at them, they exploded into a cloud of fire, shaped like a screaming skull.
Anyway, it's getting remastered.
It's simply called Gods Remastered. It seems odd that the character model of Hercules (and the weird mythological monsters he faces) is being re-done in a fleshier, almost "action figure" style, when the current hunger for dirty, nostalgic pixels remains unabated. But you can also swap visuals at any point, say the remasterers at Robot Riot. So I guess you could just treat it as a simple re-release? I don't know, I'm just the messenger of Gods. At least it seems to move with the same codgerly slowness. A stompy hero trudging around and throwing sharp things at ugly monkeys.
It was originally released in 1991, and made by the Bitmap Brothers, those action-lovers who also made scroll-o-shmup Xenon and steampunky run 'n' gun The Chaos Engine, as well as the Speedball games. Commenters more rich in wisdom than I will be able to say whether any of those deserve their own remastering. I gave up trying to complete Gods when I was just a nipper.
You can throw knives and be a slow Greek on Steam from December 4.